What's in season? Your guide to fresh produce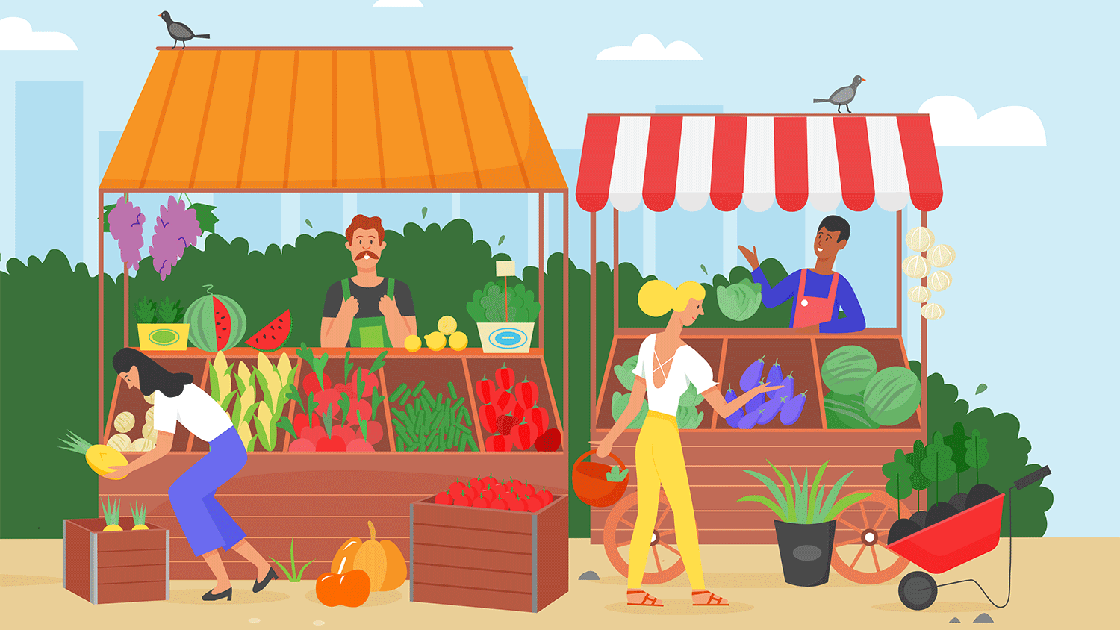 Knowing what's fresh and in-season is made easy with this seasonal produce guide. Purchasing produce at its peak not only ensures its optimum flavor and nutritional value, but a bumper crop usually yields lower prices as well. Stock up on fresh produce to freeze, can or dry, and enjoy it year-round. 
Although availability might vary slightly from region to region, these common fruits and veggies generally fall into the following seasons.
Spring: Asparagus, cabbage, carrots, collard greens, fennel, kale, lettuce, mushrooms, potatoes, radishes, rhubarb, spinach, strawberries, Swiss chard
Summer: Apples, apricots, artichokes, arugula, asparagus, beets, blueberries, broccoli, cabbage, cantaloupes, carrots, cauliflower, cherries, collard greens, corn, cucumbers, eggplant, fennel, figs, garlic, grapes, kale, leeks, lettuce, mushrooms, nectarines, onions, parsnips, pears, peas, peppers, plums, potatoes, radishes, raspberries, rhubarb, spinach, strawberries, summer squash, Swiss chard, tomatoes, turnips, watermelons
Fall: Apples, artichokes, arugula, beets, Brussels sprouts, cabbage, cantaloupes, carrots, celery, collard greens, corn, cucumbers, eggplant, fennel, garlic, grapes, kale, leeks, lettuce, mushrooms, onions, parsnips, pears, peppers, potatoes, pumpkins, radishes, spinach, summer squash, Swiss chard, tomatoes, turnips, winter squash
Winter: Beets, Brussels sprouts, cabbage, carrots, clementines, collard greens, fennel, kale, leeks, mushrooms, parsnips, potatoes, Swiss chard, turnips, winter squash
Spring: Apricots, arugula, asparagus, avocados, broccoli, cabbage, carrots, cauliflower, celery, collard greens, corn, cucumbers, eggplant, figs, garlic, grapefruits, green beans, kale, leeks, lemons, lettuce, mushrooms, nectarines, onions, oranges, peaches, peas, potatoes, radishes, spinach, strawberries, summer squash, Swiss chard, tomatoes, turnips
Summer: Apples, arugula, blueberries, cantaloupes, corn, cucumbers, eggplant, figs, garlic, grapes, green beans, leeks, mushrooms, nectarines, okra, onions, peaches, pears, peppers, plums, pomegranates, potatoes, pumpkins, raspberries, summer squash, tomatoes, watermelons
Fall: Apples, arugula, avocados, broccoli, Brussels sprouts, carrots, cauliflower, collard greens, corn, dates, figs, green beans, kale, leeks, lettuce, limes, mushrooms, parsnips, peppers, pomegranates, potatoes, pumpkins, radishes, raspberries, spinach, sweet potatoes, Swiss chard, tomatoes, turnips, winter squash
Winter: Arugula, avocados, broccoli, Brussels sprouts, cabbage, carrots, cauliflower, collard greens, garlic, grapefruits, kale, leeks, lemons, lettuce, mushrooms, oranges, parsnips, radishes, spinach, strawberries, sweet potatoes, Swiss chard, tangerines, turnips, winter squash
Spring: Arugula, asparagus, beets, carrots, lettuce, mushrooms, parsnips, peppers, radishes, rhubarb, spinach
Summer: Apples, arugula, asparagus, beets, blueberries, broccoli, Brussels sprouts, cabbage, cantaloupes, carrots, cauliflower, celery, cherries, corn, cucumbers, eggplant, garlic, grapes, kale, leeks, lettuce, mushrooms, onions, peaches, pears, peas, peppers, plums, potatoes, pumpkins, radishes, raspberries, rhubarb, spinach, strawberries, summer squash, Swiss chard, tomatoes, turnips, watermelons
Fall: Apples, beets, broccoli, Brussels sprouts, cabbage, carrots, cauliflower, celery, cucumbers, eggplant, garlic, kale, leeks, lettuce, mushrooms, onions, parsnips, pears, pumpkins, radishes, spinach, summer squash, Swiss chard, tomatoes, turnips, winter squash
Spring: Asparagus, beets, blueberries, broccoli, cabbage, cauliflower, collard greens, corn, cucumbers, eggplant, grapefruits, green beans, lettuce, okra, onions, oranges, peaches, peppers, plums, pumpkins, spinach, strawberries, summer squash, sweet potatoes, tomatoes
Summer: Apples, asparagus, beets, blueberries, cabbage, cantaloupes, cauliflower, collard greens, corn, cucumbers, eggplant, figs, grapes, green beans, okra, oranges, peaches, peas, peppers, plums, potatoes, pumpkins, raspberries, spinach, summer squash, sweet potatoes, tomatoes, watermelons
Fall: Apples, cabbage, collard greens, cucumbers, grapes, kale, leeks, lettuce, okra, peaches, peppers, pumpkins, spinach, sweet potatoes, tomatoes, winter squash
Winter: Apples, collard greens, grapefruits, kale, lettuce, oranges, spinach
Spring: Arugula, asparagus, beets, broccoli, cabbage, carrots, cauliflower, cherries, garlic, kale, lettuce, mushrooms, parsnips, peas, radishes, rhubarb, spinach, strawberries, Swiss chard 
Spring: Apples, arugula, asparagus, beets, beans, blueberries, broccoli, Brussels sprouts, cabbage, cantaloupes, carrots, cauliflower, celery, cherries, collards, corn, cucumbers, eggplant, fennel, garlic, grapes, green beans, kale, leeks, lettuce, mushrooms, nectarines, okra, onions, peaches, pears, peas, peppers, plums, potatoes, pumpkins, radishes, raspberries, rhubarb, spinach, strawberries, summer squash, sweet potatoes, Swiss chard, tomatoes, turnips, watermelons
Fall: Apples, beets, broccoli, Brussels sprouts, cabbage, cauliflower, celery, collard greens, cranberries, cucumbers, eggplant, fennel, garlic, grapes, kale, leeks, lettuce, mushrooms, onions, parsnips, pears, peas, peppers, potatoes, pumpkins, radishes, spinach, sweet potatoes, Swiss chard, turnips, winter squash 
Winter: Mushrooms, parsnips
Published at Mon, 10 May 2021 11:00:00 +0000
Article source: https://www.nwitimes.com/lifestyles/food-and-cooking/feast-and-field/read/what-s-in-season-your-guide-to-fresh-produce/article_57704297-1225-535e-893c-02313f8fc59d.html