WATCH NOW: An exclusive look inside the new Hard Rock Casino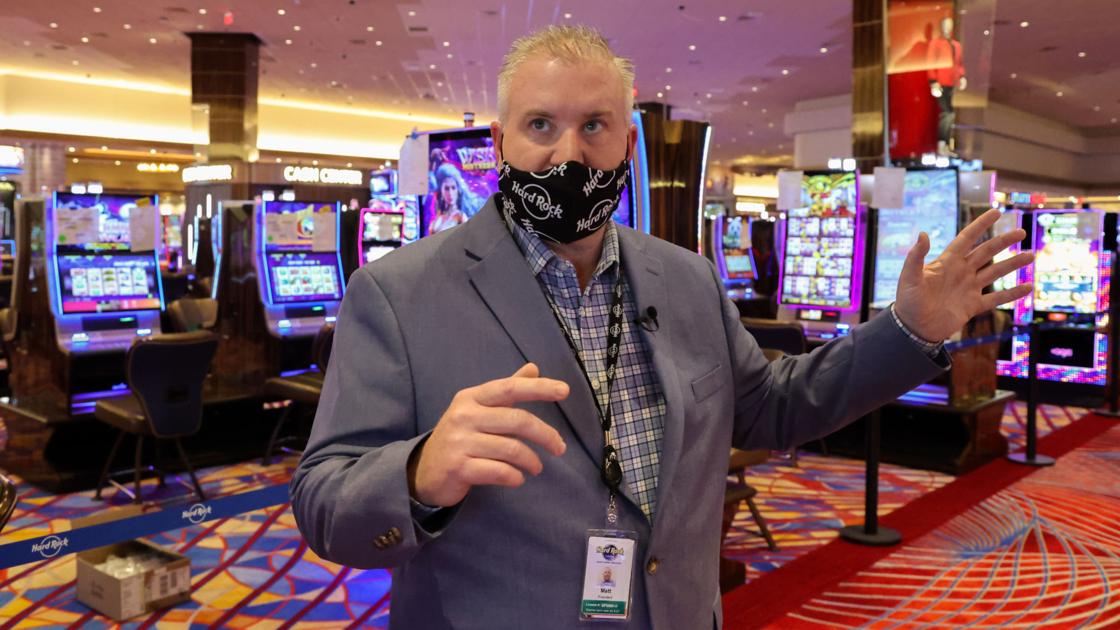 GARY — A new era of gaming, dining and entertainment in Northwest Indiana begins at 5 p.m. Friday when officials press "play" and open the doors of the Hard Rock Casino to the public for the first time.
There is no "stop" button.
Twenty-four hours a day, seven days a week, the speakers will be thumping inside the $300 million casino located immediately adjacent to eastbound Interstate 80/94 at the Burr Street exit in Gary.
The first land-based casino in the Hoosier State is like no other in Indiana, and walking even just a few steps inside will make visitors quickly forget the 25-year-old Majestic Star Casino boats on Lake Michigan the Hard Rock is replacing.
"It's hard not to be blown away when you walk in and see the high level of quality, the finishes, the commitment to providing the best product," said Matt Schuffert, Hard Rock Casino president. "Most importantly, it's going to be a fun, entertaining environment."
Schuffert last week treated The Times to an exclusive tour of the 200,000-square foot building where thousands of construction workers, and approximately 1,200 permanent employees, have labored since the Jan. 9, 2020, groundbreaking to create a destination worthy of the Hard Rock brand.
"There's been so many great team members here who have worked so hard to get this facility in the shape it's in today," Schuffert said.
"They're excited to be able to open the doors and take care of guests and have a great time, and I'm looking forward for them really just enjoying what they've worked so hard to accomplish."
The main entrance to the casino is located behind a 37-foot-tall-by-15-foot-wide guitar marquee modeled on the 1965 Airline Town and Country guitar owned by onetime Gary resident Joe Jackson, and ultimately used by his children as they came together to form the world-renowned Jackson 5.
Once inside, an artistic representation of the guitar, with embedded references to each member of the Jackson 5 and their musical accomplishments, runs the length of the ceiling of the casino's center aisle toward the Hard Rock Cafe restaurant.
Table games line both sides of the aisle and are surrounded by some 1,300 brand new slot machines featuring exciting bonuses, brilliant LED lighting and impeccable sound and graphics.
"This is like going to the gaming show in Vegas and this is what you see," Schuffert said. "It's by far going to be the freshest slot floor in the market."
Another 65 high-limit slot machines, and additional high-limit table games, sit behind walls and glass cases packed with Gary- or Indiana-connected music memorabilia, including John Mellencamp's hand-written lyrics to "Small Town."
The highest of high rollers also can access the exclusive Plum Lounge, tucked inside the high limit area, for complimentary food, discounted drinks, and a comfortable place to sit and relax before trying their luck.
"There's definitely a focus on creating those high-limit amenities for that certain player," Schuffert said. "There's definitely more of it than I think you might have seen at some other places."
Dining options0
But it's not just the gaming floor that's fresh at the Hard Rock.
Fresh is the watchword of the casino's five restaurants, including the Fresh Harvest Buffet where, in a temporary concession to COVID-19 prevention protocols, servers will bring lunch and dinner guests their all-you-can-eat menu selections.
The buffet is located next to the dine-in or carryout Youyu Noodle Bar that anchors the baccarat and pai gow gaming area, including a private room available to "VVIP" guests wagering considerable sums on the turn of just a few cards.
"Baccarat is a big segment of the table games business up here in Chicagoland," Schuffert said. "We think this will do very well for us."
The signature Hard Rock Cafe sits on a raised platform at the north end of the casino floor just behind a glass enclosure housing Jackson family music memorabilia.
There are some 300 table and bar seats in the namesake restaurant of the 50-year-old Hard Rock brand, along with a stage for scheduled and unscheduled musical performances.
"This restaurant is going to be lively," Schuffert said. "We'll have some unannounced cool acts that will pop in on Fridays and Saturdays."
A second stage, offering more refined live performances, is located at the Council Oaks Steakhouse and Lounge, a fine dining restaurant and bar serving prime steaks, fresh seafood and an extensive wine selection.
The kitchen, in-house butcher shop and dry-aging room are open for viewing, and reservations are required for the restaurant's 160 luxurious seats.
"This offers the best of the best from a food and dining perspective," Schuffert said.
On the other hand, Hard Rock visitors looking for something quick and tasty to eat can find coffee, breakfast, pastries, sandwiches, hot dogs, pizza and similar items at the Constant Grind Coffee Shop, open 24 hours a day.
"We envision this will be extremely popular," Schuffert said.
Entertainment
The COVID-19 pandemic that has halted large events around the world for more than a year means the 1,950-seat Hard Rock Live performance space inside the Hard Rock Casino won't be rocking quite as hard as the rest of the facility quite yet.
Schuffert said he hopes large, live performances can begin at Hard Rock Live in September or October.
In the meantime, the space is filled with some 350 slot machines temporarily relocated from the main gaming floor to facilitate compliance with social distancing guidelines.
Indeed, the entire Hard Rock property is optimized under the company's Safe and Sound program to minimize the spread of COVID-19, including mandatory face masks for guests and employees, plexiglass dividers at table games, some slot machines turned off, and discreet infrared temperature screening at each of the casino's four entrances.
Nevertheless, Schuffert said the Hard Rock's large footprint means up to 7,000 people at a time can safely be inside the building, or approximately 70% of its maximum capacity.
Before leaving, guests can commemorate their visit with a stop at the Rock Shop for the newest Hard Rock logo apparel, pins and other collectibles.
"Not only do we have Hard Rock Northern Indiana T-shirts, I felt it was important to have Hard Rock Gary memorabilia and apparel as well, so we've got some Hard Rock Gary stuff in there," Schuffert said.
Gary leaders have been instrumental in the development of Indiana's gaming industry beginning in the 1990s, and the Steel City was the first community to successfully win state legislative approval to relocate its casinos away from their waterside dock.
"This is a great thing for the city of Gary. The city of Gary is really getting the first true, land-based experience in Indiana, and they deserve it," Schuffert said. "For them to get this is truly a testament to what the city has put in from an effort perspective, and a support perspective, and a commitment perspective."
"This is something that we feel is going to be just something that everybody is blown away by."
All visitors to the Hard Rock Casino, including its restaurants, must be 21 or older. Admission and parking at the casino are free.
Published at Sun, 09 May 2021 13:00:00 +0000
Article source: https://www.nwitimes.com/news/local/govt-and-politics/watch-now-an-exclusive-look-inside-the-new-hard-rock-casino/article_ff1a35e1-0a3a-572b-8816-ac34e0432b67.html