Fast Cars, Fine Wine & Luxe Hospitality = Napa Valley 750: The Wine Country Road Rally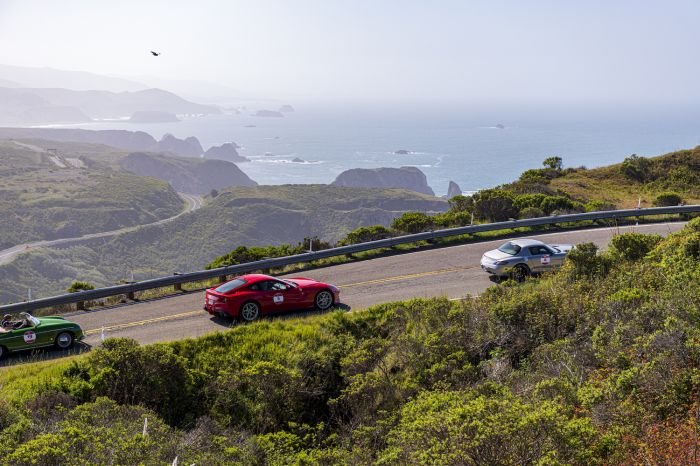 Napa Valley 750: The Wine Country Road Rally participants cruise the California coast. Photo by Allan Rosenberg
It's a scene that a Hollywood director might bring to life – 25 celebrated and significant Italian, German, and English manufactured automobiles, winding snake-like through scenic Northern California vineyards and coastline, interrupted only by camaraderie-laced pit stops and gourmet lunch and dinner gatherings. This auto aficionado jamboree recently celebrated its second annual event, and plans for the third are underway. Those with vintage pre-1976 built sports cars might want to mark their calendars.
The Napa Valley 750: The Wine Country Road Rally has quickly become greater than the sum of its parts. Alone, each cog in this event wheel is cause for celebration: beautiful sports cars, the finest in Northern California wine country varietals, celebrated cuisine, and luxe hotel accommodations. As a whole, and after just two years, the four-night, five-day affair has become an exemplary event, meticulously planned and executed to provide its participants with lifetime memories. And bonus: a philanthropic element serves the greater good.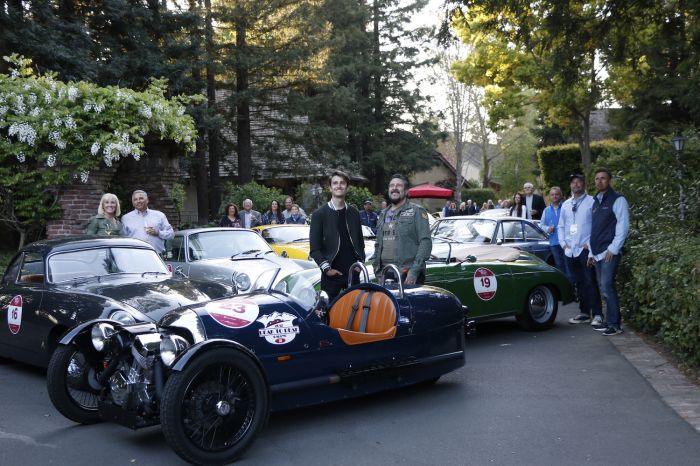 Napa Valley 750: The Wine Country Road Rally participants. Photo by Allan Rosenberg
Involving approximately 750 miles of road travel across four well-planned routes, the rally starts and ends each day/night at St. Helena's Harvest Inn where a grove of towering redwoods, lush gardens, and a storybook-like brick and stone exterior serve to maintain the resort's standing as a perennial wine country favorite. Every rally participant is provided luxury accommodations in one of the Inn's Vineyard View Collection rooms. Each day's driving route is carefully orchestrated to showcase Northern California's varying landscapes: redwood groves, mountain lakes, creek-riddled valleys, and jagged coastline.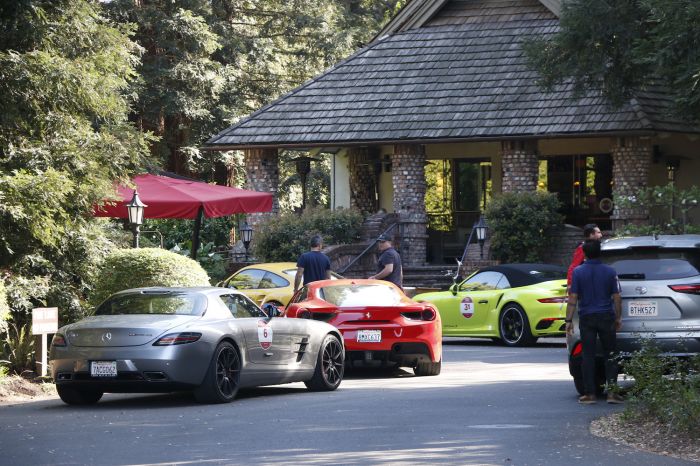 Checking in at Harvest Inn, St. Helena. Photo by Allan Rosenberg
And though the featured stops at picturesque wineries (such as Tench Vineyards, Keller Estate, Theorem, and Far Niente) and popular restaurants (such as Valette and Brasswood) are indeed a draw, (as are the closing and opening dinners held on Harvest Inn's beautiful Vineyard View Terrace), the stars of this event are the cars. Past participating vehicles have included a 1967 Ferrari 275 GTB/4 once owned by casino mogul Bill Harrah, a 1967 Ferrari 330GTC owned and operated by David Donner, a 1954 Austin Healy 100 owned and operated by Gail and Doug Dolton, a 1957 Jaguar D-Type owned by K.R. Rombauer, and a Morgan three-wheeler, owned and operated by Aaron Hagar (Sammy's son), a founder with Rick Kaufman of the now annual road rally.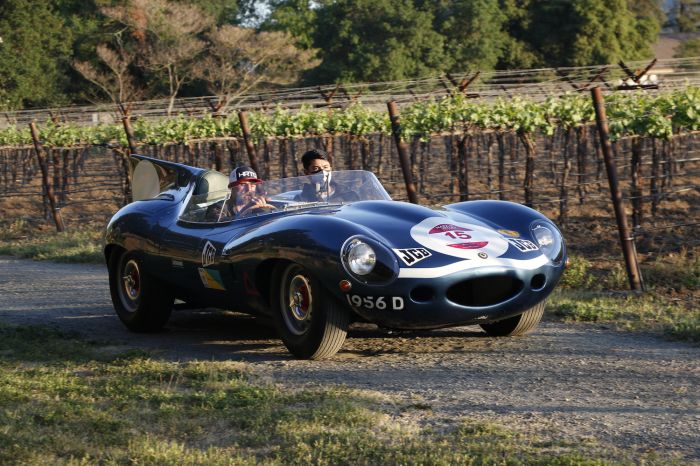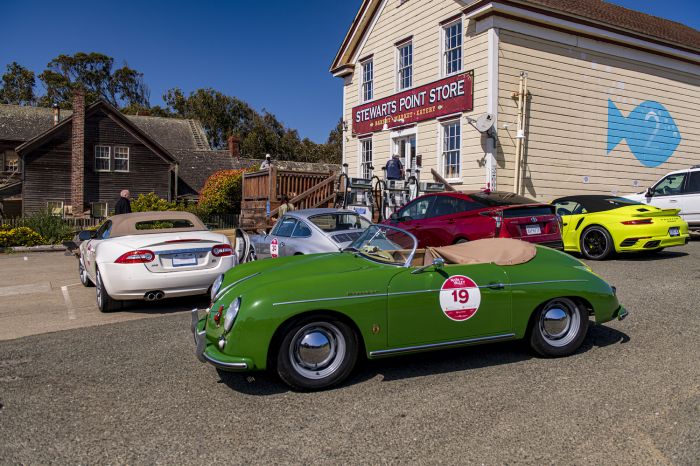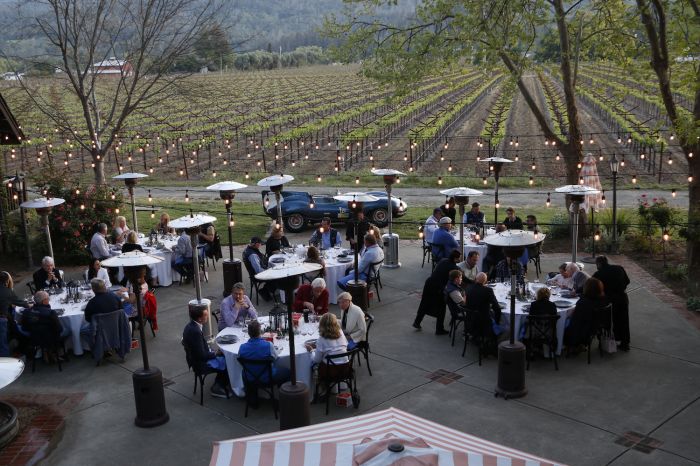 Dinner on Harvest Inn's Vineyard View Terrace. All photos above by Allan Rosenberg
"Aaron and I decided two years ago that we needed to share the beauty of California's wine country with fellow car enthusiasts," said Kaufman, a principal owner of Harvest Inn. "At the first Napa Valley 750 in 2020, we lost only a radiator, tire, and door handle. We managed to bring together those people, places, and machines, and raised money for charities along the way –  this year, $90K for the St. Helena Hospital Foundation through sponsorships from Ferrari of San Francisco, Reliable Carriers, and Hanson Bridgett, as well as from the generosity of our participants during our evening auctions. Each of these ingredients make for a great rally, one that continues to build steam each year."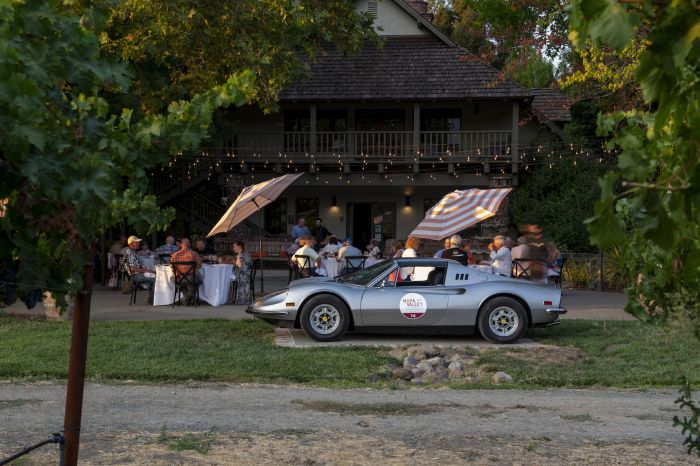 Photo by Allan Rosenberg
The next Napa Valley 750: The Wine Country Road Rally takes place April 3 – 8, 2022, with St. Helena's Harvest Inn once again providing home base. To apply for entry, click here. Preference is given for vintage sports cars of significant makes, pre-1976. 

Published at Thu, 27 May 2021 01:35:42 +0000