Expert design tips for your kitchen extension – style pointers for getting it right
Tired of struggling with a kitchen that isn't fit for purpose? Then these expert design tips for your kitchen extension are just what you need. Building onto your home might make all the difference in getting what you want without the upheaval and cost of moving – the best kitchen extensions will make you feel like you're in a brand new place. There are four main types of extension  – single rear, side return, double storey and wraparound, and once that has been established, the possibilities are endless, with a huge choice of materials, sizes, glazing and finishes. We asked our experts what their tips are for the perfect extension, and are kicking things off by going straight to the design superstar Kelly Wearstler.
"As the heart of the home, the kitchen is one of my favourite rooms; but, it is first and foremost a functional space and so requires careful planning and consideration," Kelly says. "When designing a kitchen, I like to start with a foundation of natural light and a glass kitchen extension ideas are a great way to do this. Accent lighting can then be arranged to illuminate architectural features."
 The great thing about extending is the opportunity to create a brand new feel to your home. "Open plan extensions are a great way to release free space and create flow," Kelly says. "Zoning with strategically placed furnishings, or contrasting wall coverings can help to define areas for cooking, dining, and relaxing."
Not that you have to be taking over your entire outdoor space. "Even small kitchen extension ideas can be very effective and one small change can make a huge difference," Kelly adds. "I always say, just because a room may be small, does not mean it needs to be white or light… dark, moody tones can work beautifully to blur the boundaries of a room to make it seem larger and full of character."
1. CHOOSE WELL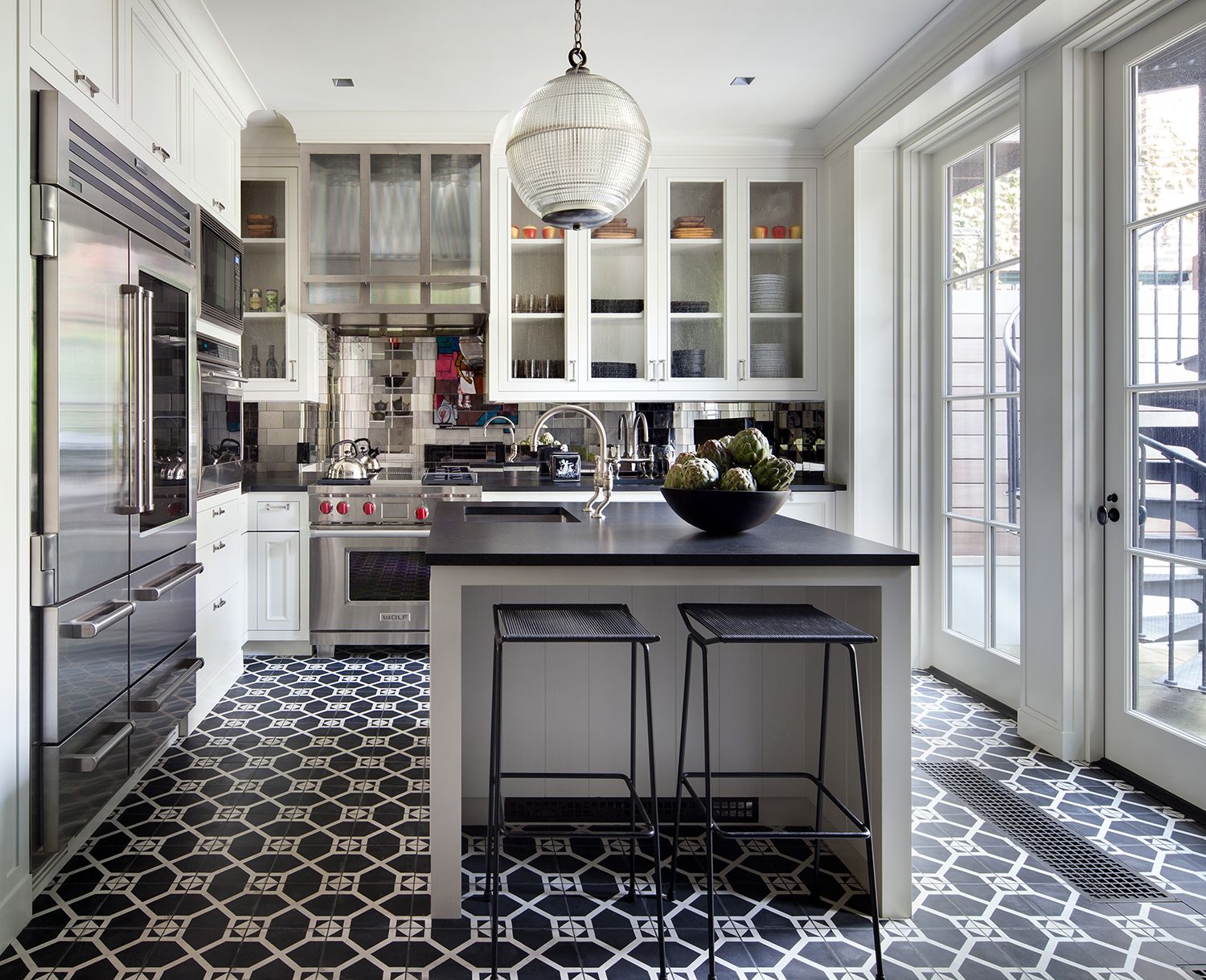 "When pondering how you want your kitchen to look, you should absolutely refer to the tear sheets and books and online image banks that you've been saving," Barbara Sallick, co-founder of Waterworks, says. We had to ask her when looking for expert design tips for your kitchen extension as she literally wrote the book on them, called Perfect Kitchens. "But no less important is thinking about all the kitchens in which you've had memorable experiences and examining those memories closely. So give yourself the time and the permission to fantasize about the kitchen experiences that would give you maximum comfort and enjoyment.  I've observed that once a project is finished, no one ever goes back to improve the quality of something on which they never should have economized in the first place. Which leads to one of my ironclad rules: invest in the highest quality you can afford, especially when it comes to the things you can't change, like kitchen cabinets. Sticking with the best is something one very seldom regret.'
2. DO YOUR RESEARCH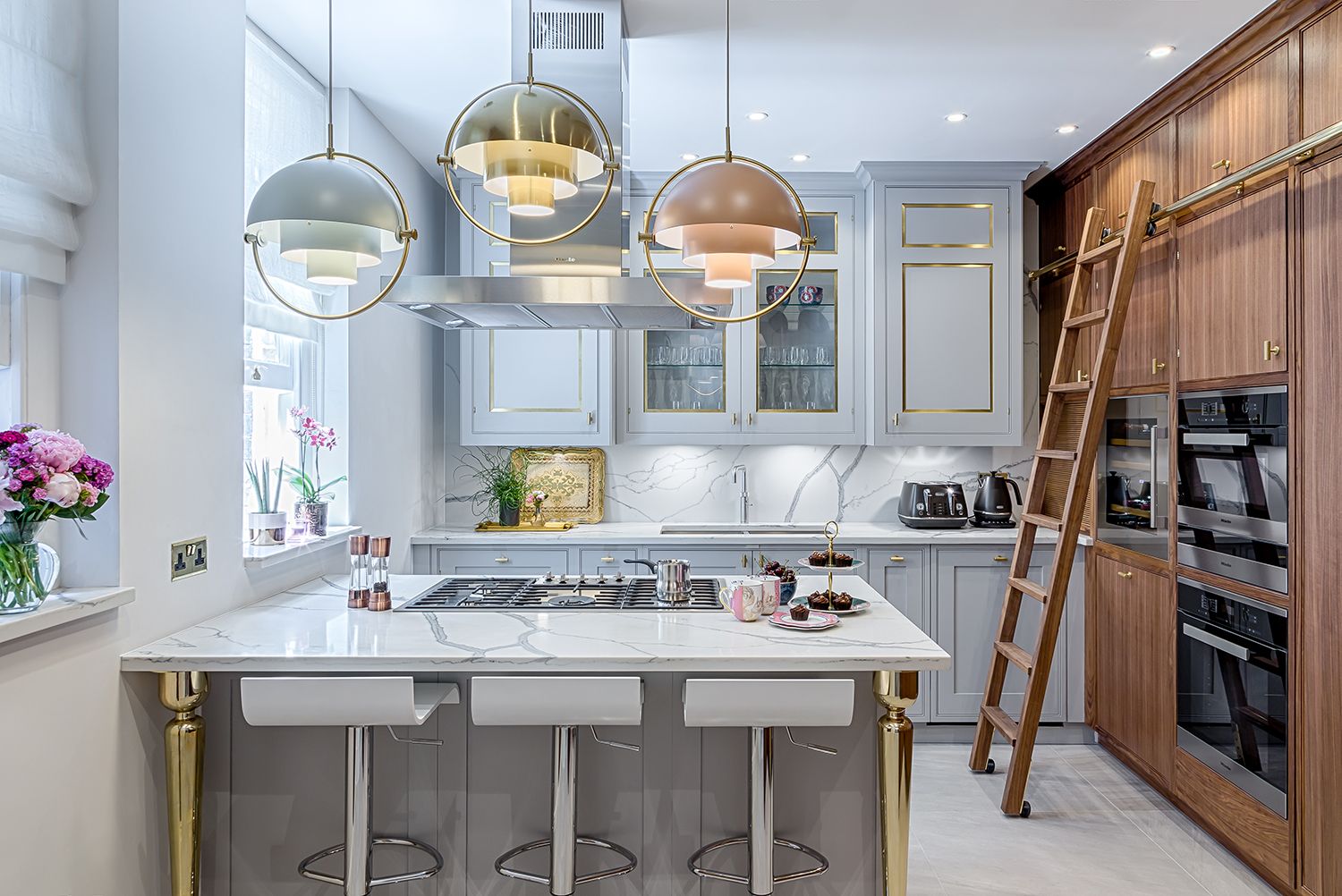 "Do your research on where you want the space to end up," says David Conlon, Head Designer of En Masse Bespoke interiors. "Visit different makers, look at online tools to create mock versions, look at mood boards and most importantly go and feel the materials you are considering using. Understand the dynamics and properties of the materials you're considering, how they'll feel, what they'll look like in the space, will they work with the rest of the home? and will they work within the environment and materials you're planning to build the extension itself from?"
3. CONSIDER THE LAYOUT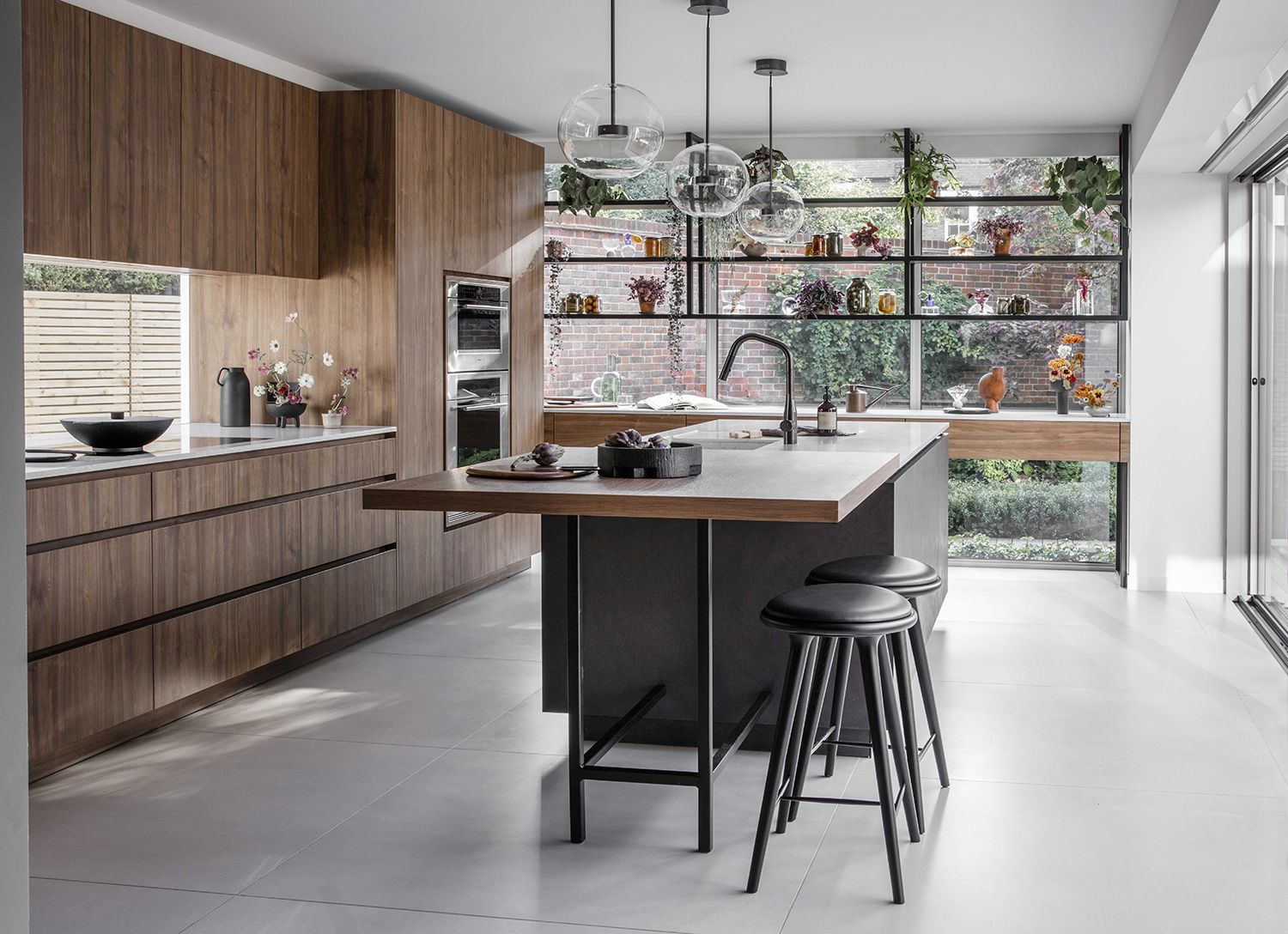 "Think carefully about how you use your kitchen," says Amrit Marway, of Architecture for London. "When kitchen layouts ideas are done wrong you have to make several trips around the kitchen collecting the items you need to prepare a meal. A good layout is one where the items are placed sequentially and within easy to reach. For instance, cutlery drawers located close to the dishwasher will save you endless trips around the kitchen. Similarly, condiments and cooking oils are best stored next to the hob along with stirring spoons, ladles, spatulas etc."
Also have a think about how likely you are to be able to keep on top of mess. "If you are generally tidy in the kitchen then it's ok to put the sink in the island," Amrit says. "If however you tend to leave piles of washing in the sink then consider using a deeper bowl and locating the sink away from the main focus of the kitchen."
Amrit gave us more expert design tips for your kitchen extension. "Make an itinerary of what you currently own and intend to keep in your new kitchen," he suggested. "Try to allocate storage space for these items when you start planning a new layout and give the rest of it away."
And just because you have more space, doesn't mean room is infinite. "Small appliances need to be located in places that are easy to access or you will never use them. Also think carefully about how many extra appliances you need. Allow for socket points in convenient locations," Amrit says. "Meanwhile, larger appliances need to be carefully measured and whilst it is tempting to go with a large American style fridge, do consider if it looks proportional to the rest of the kitchen. A better solution might be to buy a stand-alone tall fridge and a separate stand-alone freezer."
4. THINK ABOUT THE WORK TRIANGLE – yes, even now, it still applies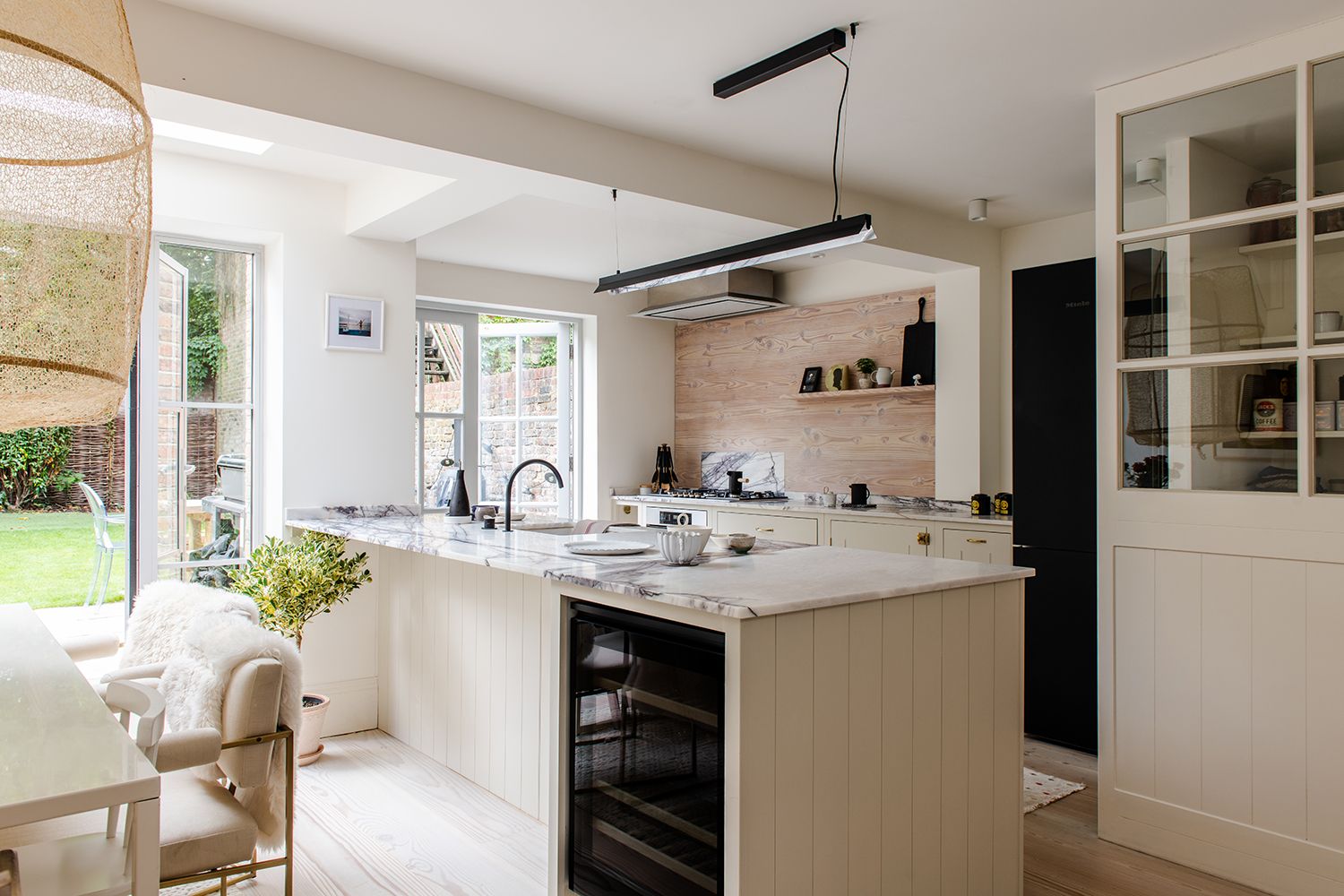 "Whatever shape you build your extension – remember the kitchen work triangle," says Kye Ranson, Designer at InHouse Inspired Room Designs. This is one of those piece of wisdom that often gets mentioned when looking for expert design tips for your kitchen extension, but still rings true.
"This is the traditional golden rule when planning a kitchen," Kye says. "Some may think it's an outdated concept, but it's rooted in common sense. For the chefs, gourmets, cooks and bakers out there, if you are going to do some serious miles in the kitchen, then plan your triangle between the refrigerator, stove and sink. Ask yourself – How do I like to cook? Do I work clockwise or anti clockwise? How do I flow around the kitchen? Where do I need preparation areas? Do we want to eat in the kitchen? Do I want a separate pantry? Are we including a utility room in the plans or will the washing machine be in the kitchen? All these questions will have a bearing on both the interior design and extension planning – and ultimately how the kitchen operates."
5.MAKE USE OF SPACE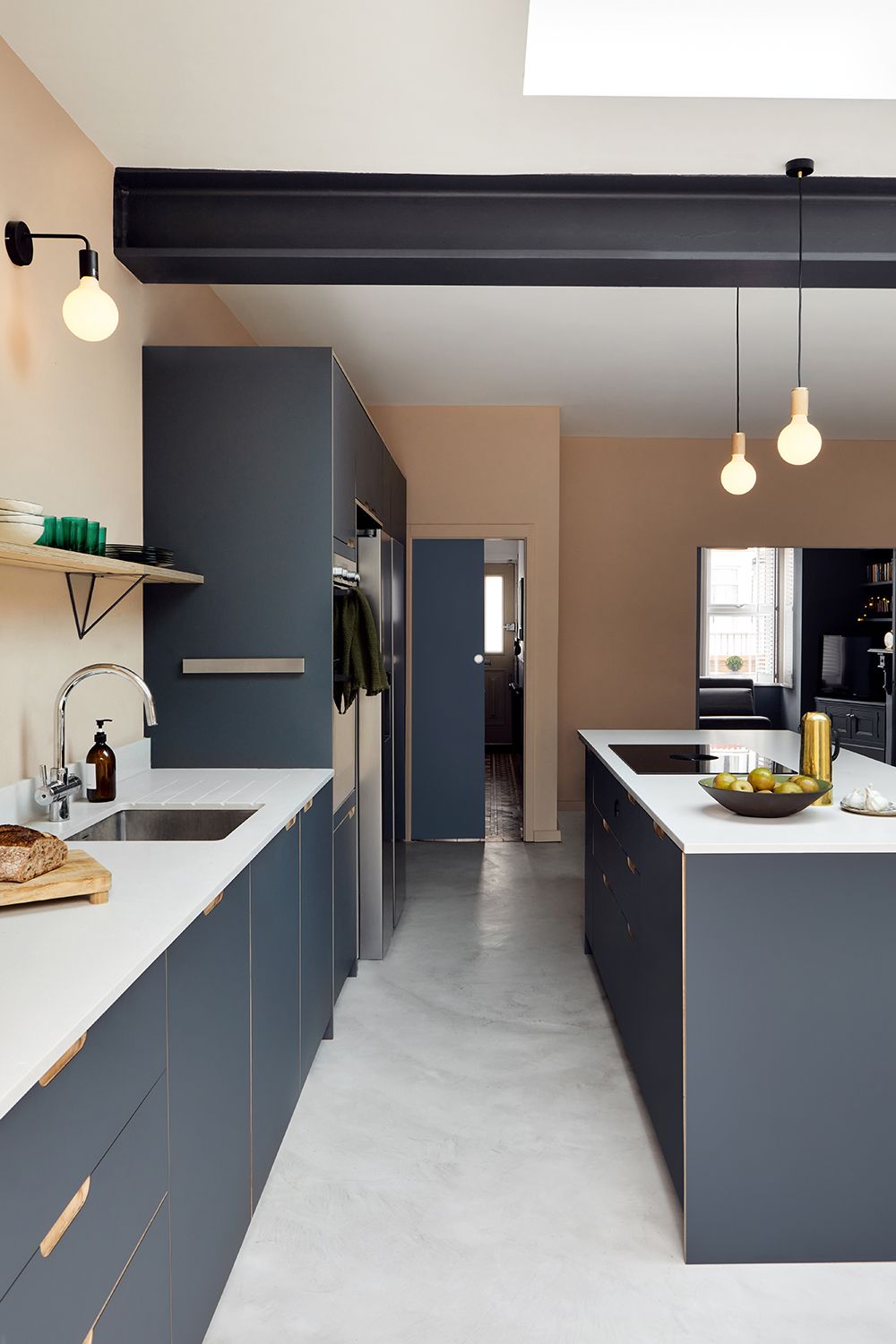 "Sometimes even extensions leave you with little room, once you've added in your dining table and seating. When considering small kitchen ideas, you need to micro plan how you intend to use the space so that questions of storage, cooking and washing are addressed," says Benji Lewis, Interior Designer and founder of online interior design service, Zoom That Room.
"Tall units for housing appliances such as ovens are a great space saver and if positioned at the right height, prevent the need to bend down to retrieve things from the cooker," Benji adds. "Similarly, don't just do the dishwasher under unit thing, consider raising it up in a tall unit and putting drawers for the cutlery and crockery beside it so that when you unload, you take straight from the dishwasher and put it away in the drawers next to it."
He has some guidelines for other placements, too. "I like to put the hob between two tall units; one tall unit housing the oven and the other tall unit housing the fridge; put the sink on a run of base units behind you and you have a perfectly good and practical working kitchen," Benji says.
6. INCORPORATE STRUCTURAL ELEMENTS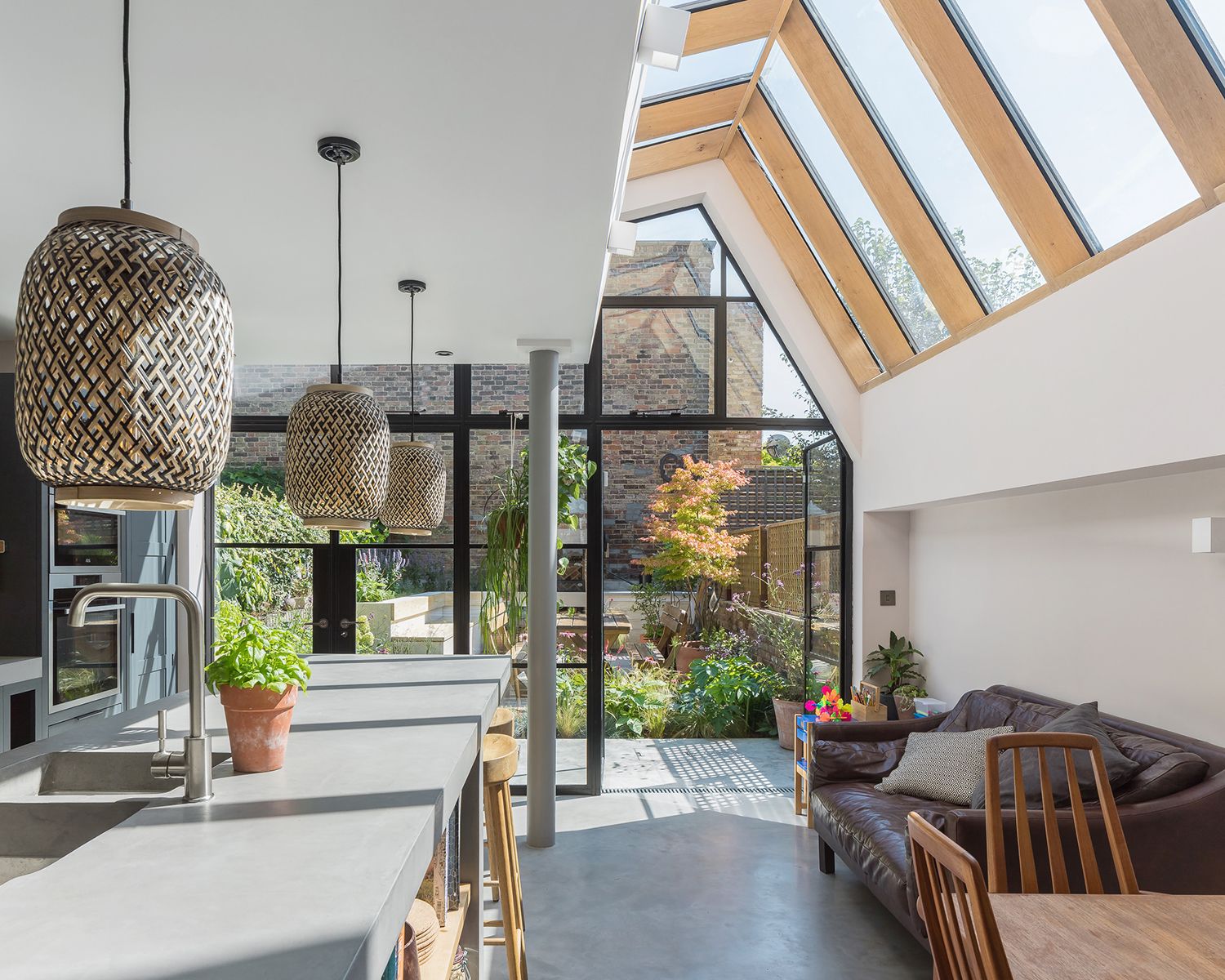 "Think about how you are going to incorporate existing structural elements into a scheme, as elements such as steelwork can be very costly to move," says Sarah Thompson of Thompson Clarke Interiors. "Structural pillars or supporting beams can be cleverly integrated to become part of the design, and  can sometimes also be hidden within cabinetry."
Layouts from other parts of the house are also key. "Consider the flow to and from other rooms, and how much space you want to have in the kitchen area," Sarah says. "For example, squeezing in seating such as a banquette might make a space feel smaller, so always adapt the space to suit the right level of usage." 
7 GET THE FLOW RIGHT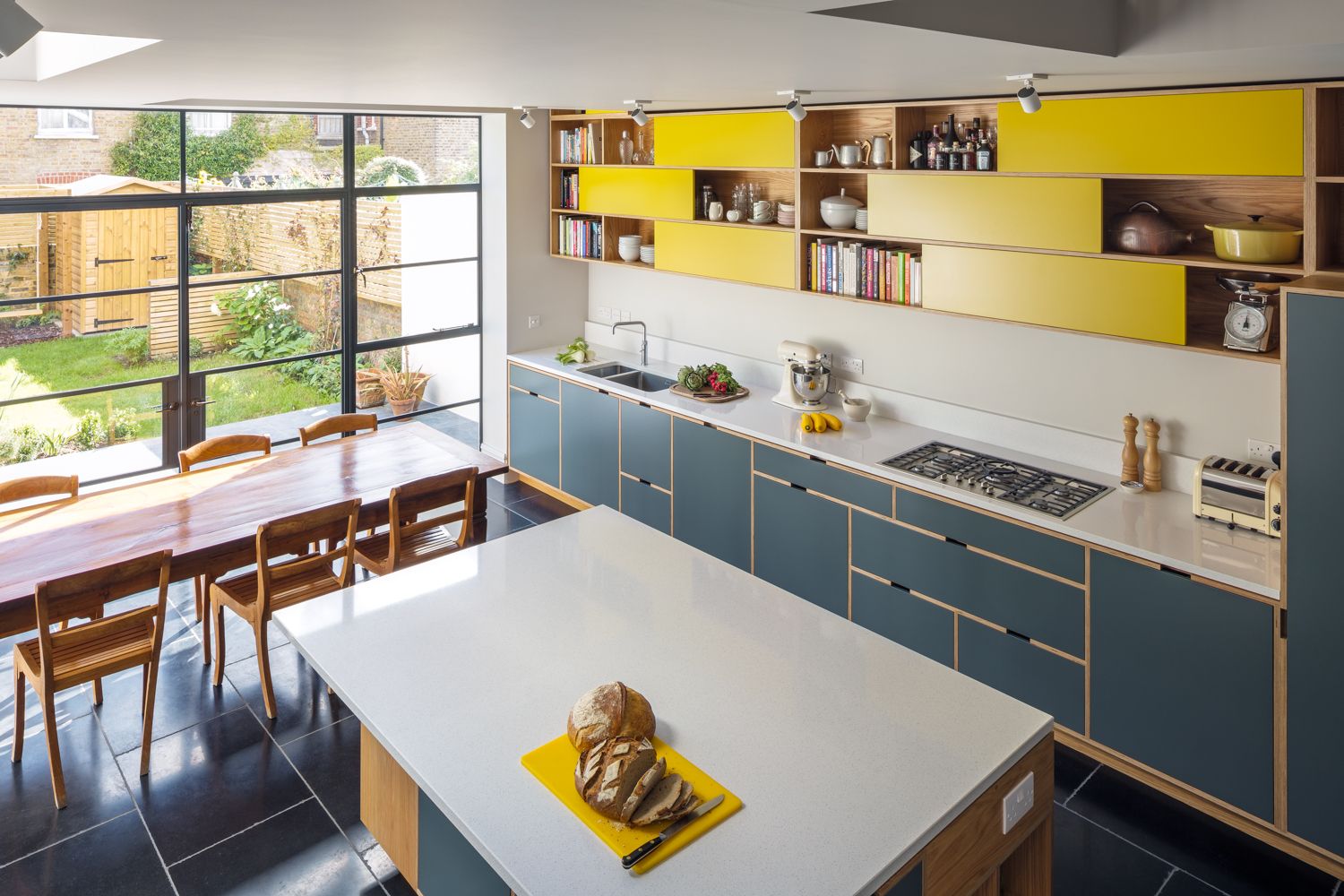 "Don't try and squeeze an island into a narrow space," says Fiona Ginnett, head of design at Hølte. "Instead, consider a peninsula that could orientate to provide a different outlook from a cooking area or breakfast bar seating, while allowing better circulation and movement throughout the space. Circulation space is key, especially in a small kitchen. Allow for a minimum of 900mm between worktop and island or peninsula."
There are also ways to ensure longevity of your extension. "Durable materials and timeless finishes can elongate the lifetime of your kitchen, are kinder to the planet and also your pocket in the long run," Fiona says. "Finally, try not to be led too much by Instagram and Pinterest images, as often the finishes and details you fall in love with may be out of budget or very difficult to achieve in your own space. Instead, consult the professionals! A good kitchen designer will advise on achieving the look you are after within your budget without compromising functionality."
8. PREPARATION, PREPARATION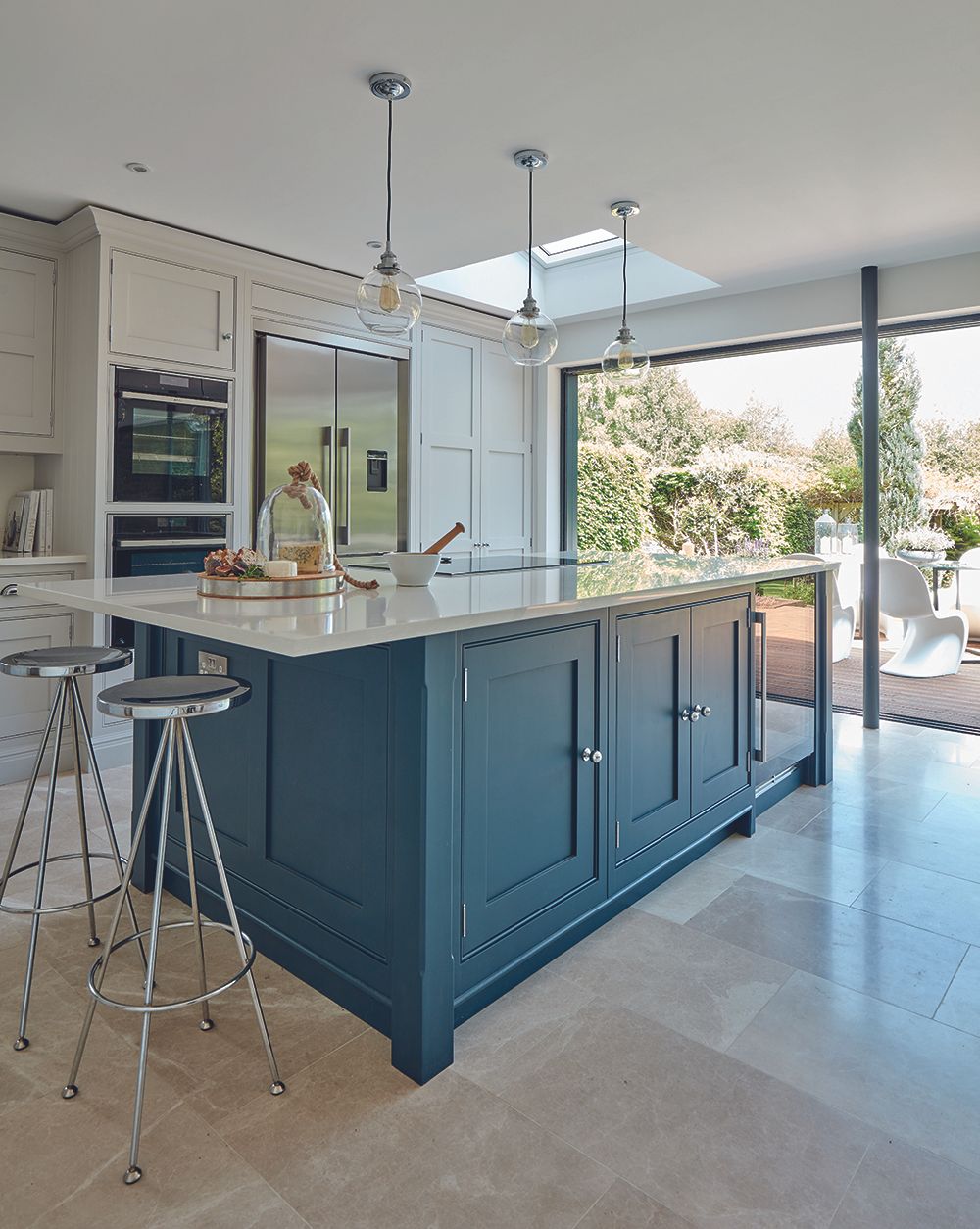 When it comes to expert design tips for your kitchen extension, preparation is key.
"A good idea is to write a list of all the features that you want in your new kitchen," says Tom Howley, owner and kitchen designer of Tom Howley Kitchens. "We advise our clients to consider design elements separately. When it comes to an island – do you want appliances, storage or a breakfast bar to be part of the design?"
Tom suggests thinking about what else you want in your kitchen. "How about a dining/ living area?" he says "Would you like to create a zone for eating and a zone for relaxing and watching TV within your new kitchen extension? And how about a  walk-in pantry – keep all your everyday groceries and culinary essentials close to hand."
Often, extensions are about bringing the outdoors in. "If you have bi-fold doors that open onto your garden," Tom says, "is there scope to create an indoor/ outdoor dining experience?"
Image: Hartford by Tom Howley https://www.tomhowley.co.uk/
9. CONSIDER VENTILATION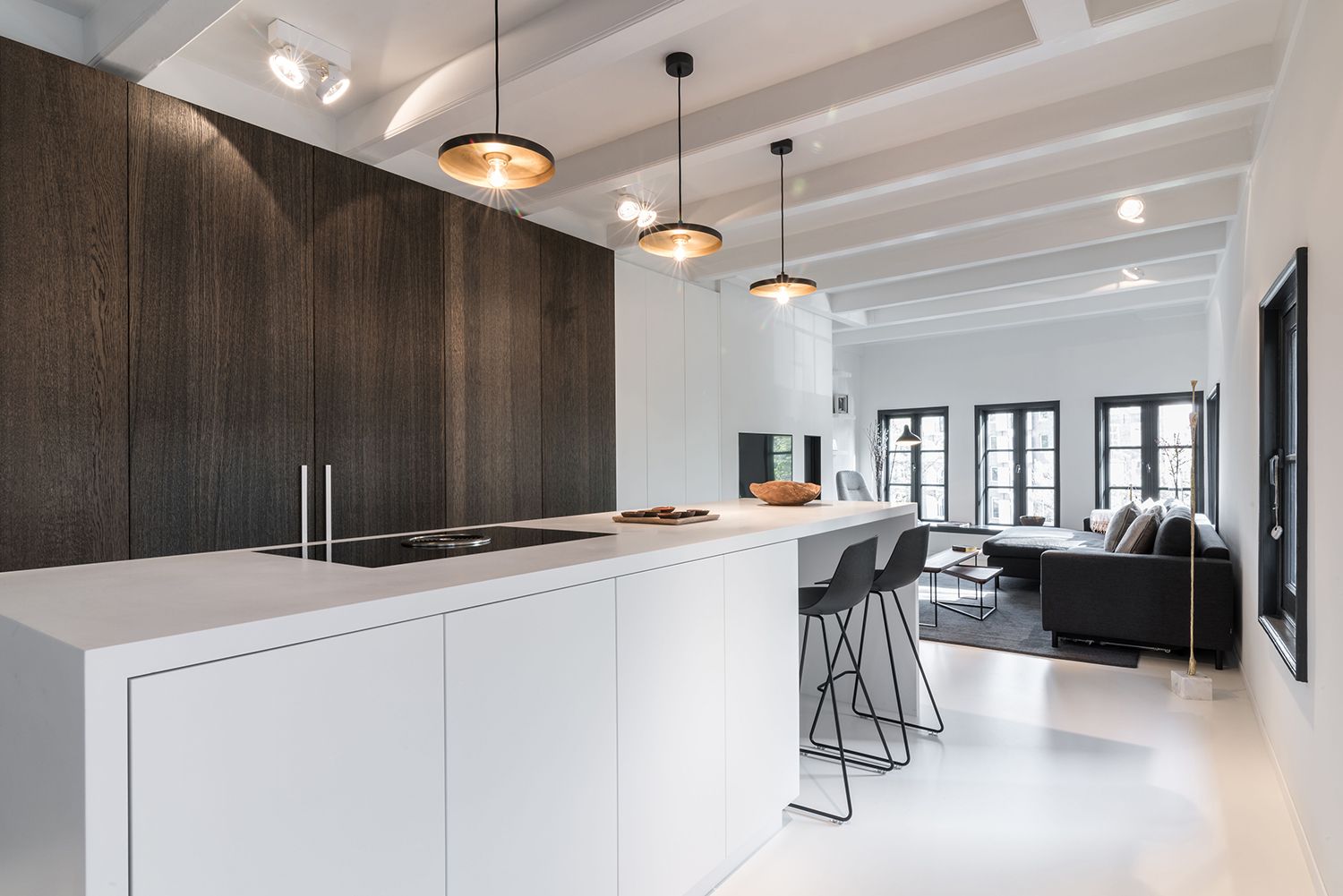 Of course, another great part of a new extension is being able to create a new flow of light and air. "Open plan extensions are very impressive and make for a lovely social space," says William Durrant, owner of Herringbone Kitchens. "What is important is that you consider the airflow, so make sure you get a powerful extractor such as a Bora downdraft hob/extractor for cleanliness and air quality. Also, islands are almost essential to these spaces because they join the rooms together and add sociable seating. Bespoke units such as breakfast bars or larders add storage, style and impact to open plan spaces. It is all about considering how you use the space daily and make it work for you."
10. ISLAND LIFE
A good sized modern kitchen island has become the hub of the kitchen and provides an 'anchor' in an extension," says Luisa Scotto di Fasano, Senior Designer of ALM Studios. "Put the hob on the island and not the sink and use a downdraft extractor to eliminate the need for obtrusive overhead extractors which could spoil the overall look. Include a hot boiling/drinking tap for speed and to keep surfaces uncluttered, and include pan drawers which offer a lot of storage and are easy to use. Also make sure there is an integrated bin in an open-plan space to keep it looking tidy."
Published at Sun, 13 Jun 2021 08:24:17 +0000