Expert advice for small kitchens – interior designers share big secrets for getting the most out of a small space
Taking expert advice for small kitchens means you won't have to shy away from good design just because space is tight, in fact it's quite the opposite. While of course certain elements are a given – cooking facilities, a fridge, some kind of storage – each of the small kitchen ideas you follow and each layout decision you make, as well as how the space looks and feels, will impact your routine and mealtimes on a daily basis. The smaller the kitchen, the more important every centimeter becomes (think of it as a challenge) – this is a room that needs and deserves design consideration. We ask interior designers how to tackle a compact kitchen and how to make the most of even the most minute space.
If your kitchen's on the tiny side, no need to fear – all is not lost. 'Having a small kitchen isn't always a bad thing because it's easier to move around,' says interior designer Beata Heuman. 'Sometimes really big kitchens are harder to use – great big islands between the cooker and the sink can actually be a bit obstructive, and often smaller kitchens can be more useful, especially if one person usually cooks.'
'Small kitchens are often the best kind because they come with all sorts of interesting design issues,' enthuses Sheen Murphy, founder of interior design practice Nune Nune. 'Lighting is vital in tight spaces, as are color and materials. You often have to be more restrained and thoughtful in small spaces though, because there isn't a lot of space for material repetition things can quickly start to feel busy.'
'A kitchen's all about using and experiencing the senses,' says Massimo Minale, Founder of Buster and Punch. 'The designed elements you touch should convey a sense of excitement, which is gives a space its identity.' 
'When dealing with a small kitchen, it needs to feel as spacious as possible, as well as being comfortable to use,' advises Interior designer Fawn Galli. 'When thinking about small kitchen layout ideas, consider how you use the space in terms of storage, cooking and other factors.'
'A key starting place when designing a smaller kitchen is to focus on which elements of a new layout will improve your daily routine' summarizes Emma Sims-Hilditch, Creative founder of Neptune (neptune.com) and Founder of interior design studio Sims Hilditch (simshilditch.com).  
What kind of storage does a small kitchen need?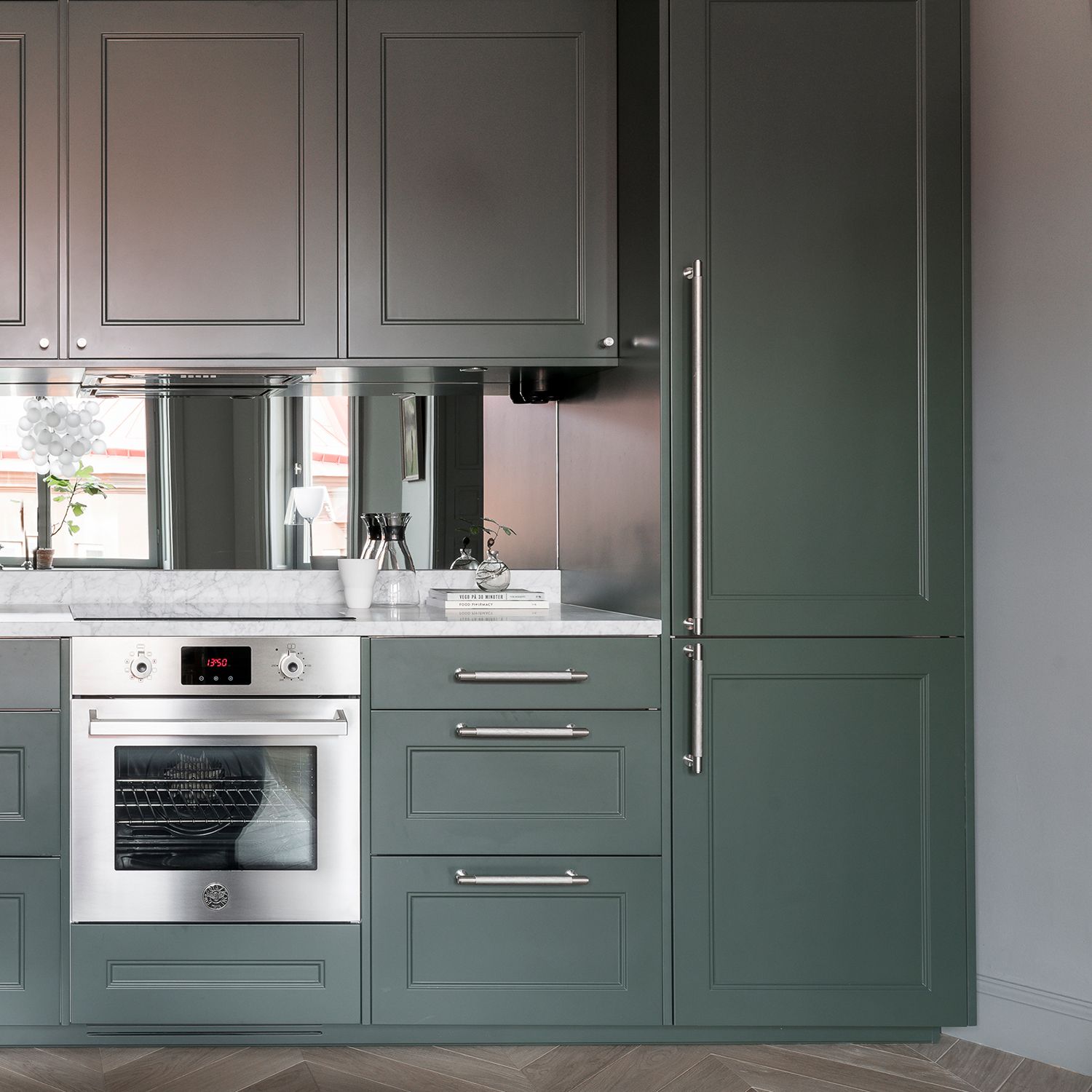 Cupboards? Shelves? Racks? Hooks? Small kitchen storage ideas are a minefield, with each of the numerous options having their own pros and cons. In a small kitchen, storage must combine efficiency and practicality with a hearty dose of style. But where to start?
'Approach storage in a vertical way,' says interior designer Fawn Galli. 'Even though you are limited horizontally, maximize vertical space to get more storage space such as using drawers inside of cabinetry, which allow you to see everything you have more easily.'
'A large cupboard to keep mixers and makers of the way when they're not needed will really help to maximize the space,' says interior designer Emma Sims-Hilditch. 'Plus, a few deep drawers for your mixing bowls and utensils will make everything more accessible and easily ordered.' 
'Drawers are a lot easier to access, and eliminate scrabbling at the back of a cupboard to find what you need, so go for a mix of deeper drawers (for storing bulky pots and pans) and shallow drawers (for cutlery and cooking essentials), and always add bespoke drawer inserts to ensure cutlery, utensils and spices are stored in the most efficient way,' says Ledbury Studio's Charlie Smallbone. 'That said, cupboards have a place in the small kitchen too. I like to use a mix of both as they're generally cheaper than drawers and can be really useful because they allow for more general storage.'
'Interior organizers will get you the most bang for your buck when it comes to kitchen storage,' says Nune Nune's Sheena Murphy. 'Add hooks where you can too, these are not only helpful for tea towels, aprons and oven gloves but also food storage  – vine tomatoes will stay fresher for longer draped over a hook!'
'Don't just think about cabinets and units, use wall space and add in hanging elements like you'd expect to find in a bar,' advises Buster and Punch's Massimo Minale. 'You need to box clever with storage in small kitchens; don't be scared to put your pots, pans, glassware and ceramics on show. I always use open-shelving, exposed glass rails and pan rails to display my kitchen wares – just keep the colors controlled. Fluted glass-fronted kitchen cabinets are also smart as they reveal just enough to give the illusion of space and neatness.' 
How to maximize space in a small kitchen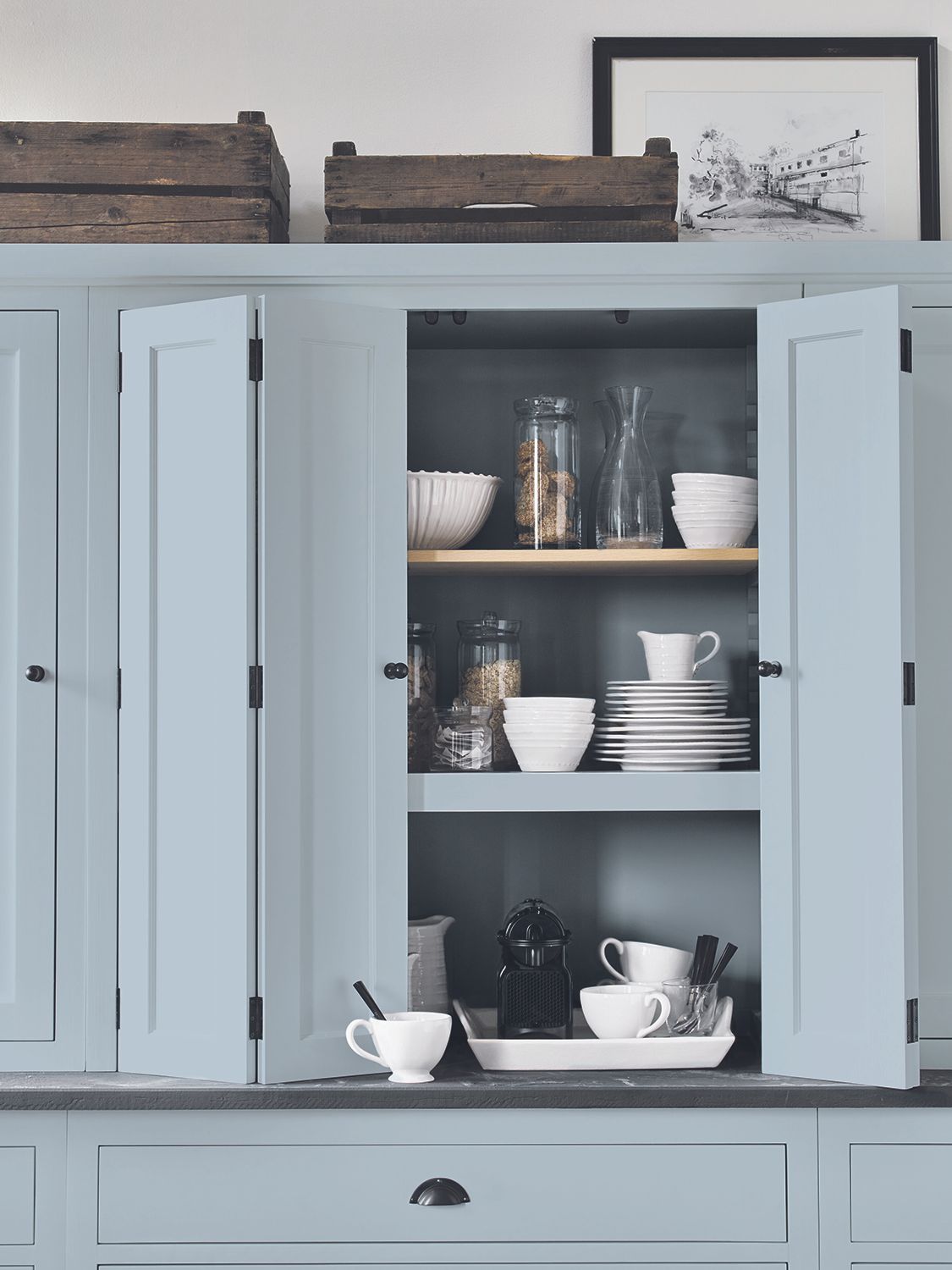 Knowing how to design a small kitchen floorplan means knowing how to fold in storage. There's a reason most kitchens consist of layers of cupboards and shelves – this room has to hold not only ovens, fridges and dishwashers but also sinks, bins, gadgets, utensils, cutlery, cookware, drinkware and tableware, not to mention surfaces to use them all on. Here, space is at a premium, and there's an awful lot to pack in. So what are the insider tricks?
'The very first thing to think about is how to maximize storage,' says Nune Nune's Sheena Murphy. 'Use all the space you have, horizontal and vertical. Invest in nifty interior components like plate and utensil dividers, spice racks and shallow drawers to fit within larger ones, and use large drawers instead of lower cabinets as they're far more space efficient and less cumbersome to reach into.' 
'It's so important to exploit all areas for peak usefulness and avoid wasting space – use every nook and cranny!' implores interior designer Fawn Galli. 'Ensure you have room for your most essential kitchen functions like storage, prep, lighting and dining. In the kitchen, one area can be designed to perform multiple functions.'
'Small kitchens often have just a single run of cupboards, so it's vital that the layout is carefully planned so that you can move easily between key working areas,' Charlie Smallbone, Founder of Ledbury Studio (ledburystudio.com) tells us. 'An arrangement I like is to have tall cabinets with a fridge-freezer at one end, a dropped-down worktop with cupboard above it at the other, and the sink, hob and a run of worktop in between. Also try to avoid putting wall cupboards above base cabinets which can make it feel as though the walls are closing in – try open shelving (a great way to showcase pieces you're proud of) or hanging rails (for keeping the essentials close to hand) instead.' 
'In my home, which is a pretty small galley kitchen, I have transparent glass cabinet fronts which is nice because the spaces feels bigger due to the extra depth you can see,' says interior designer Beata Heuman. 'Even though it's only a foot it does make a difference.' 
'A bi-fold countertop cabinet is great for smaller spaces,' says interior designer Emma Sims-Hilditch. 'Key items such as the toaster, storage jars and chopping boards can all be stowed away safely but still be easily accessed, and the doors can be shut to keep the space looking clear.'
'It's a common misconception that you need to fit as much closed storage into a small kitchen as possible – this will just close the space even further,' tips Buster and Punch's Massimo Minale. 'You need to see as much of the floor and walls as possible, so opt for freestanding kitchen units that sit off the ground and open-shelving above your countertops, and go for a color on the units and cabinets that references the rest of your home to take attention away from the space's diminutive size.'
How to add visual wow to a small kitchen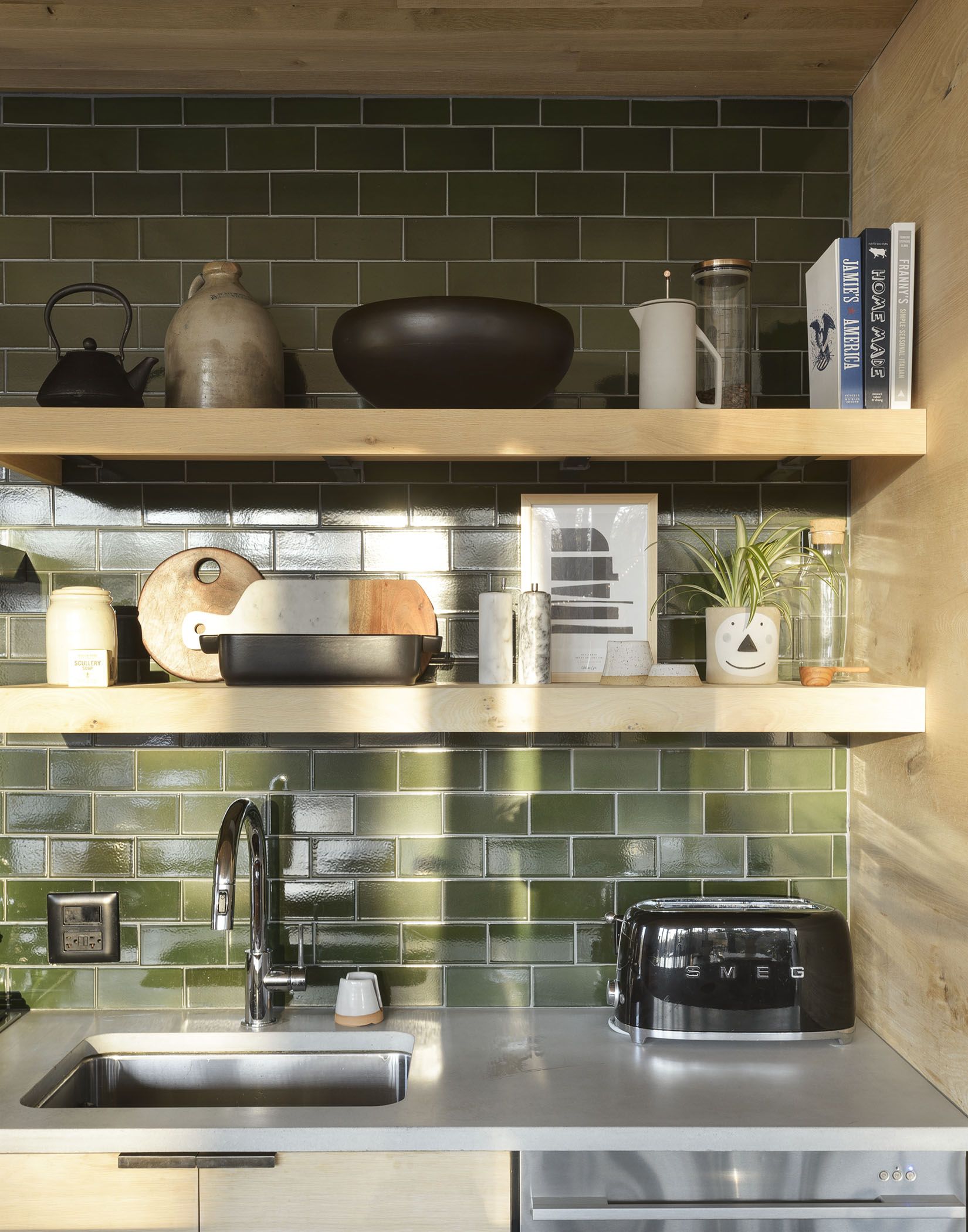 One of the joys of designing a small kitchen, is that you can splash out on materials that wouldn't work financially in a larger space, and be more experimental knowing that the space is contained.  
'A dramatic marble or unusual color can make small kitchens feel very special but can be too much over a large surface area,' says Nune Nune's Sheena Murphy. 'In a small space you can be much more creative and have fun with unexpected materials, hues and details such as lighting, knobs and handles.' 
'Backsplashes are a good place to experiment because it's likely they'll be bespoke, so it doesn't cost that much more to introduce a more interesting shape or material,' says interior designer Beata Heuman. 'In a recent space we designed for a small flat we designed a big round backsplash – even though the kitchen is tiny, you see the backsplash as you enter the home and it creates real wow factor.' 
'Even though it's small, if the kitchen is open to the living room, you may still be able to include a kitchen island. Hardworking and aesthetically pleasing, the beauty of an island is that it provides additional space for food prep and storage and by incorporating a breakfast bar it can be used for dining too,' smiles Charlie Smallbone of Ledbury Studio. 'As far as small kitchen island ideas go, the smallest island I would recommend is 900mm wide by 1.5m-2.3m in length, and make sure that you have at least a meter around it if possible. If you can't squeeze in an island, perhaps look to extend the worktop at right angles to the base cabinetry to create a peninsular breakfast bar.' 
What to spend the most on in a small kitchen
The shopping list for even a tiny kitchen will quicky grow alarmingly long. From must-have white goods to the all-important details, it's vital to keep a firm eye on the finances and prioritize. So, what to splash out on and what to give a lower budget? 
'Practically, storage and appliances are the big-ticket items in a kitchen and a certain piece might be more important to you than the other. The reality is, you don't want to have to repair or replace those items for a long time, so if budget permits, be very deliberate and thoughtful about those choices as it will be worth the investment long term,' says Nune Nune's Sheena Murphy. 'For more decorative elements, prioritize lighting when it comes to allocating budget; spending a little more will create a more interesting space, particularly if you have multiple light sources and can adjust illumination levels.' 
'Ultimately, you want a small kitchen to feel as though it has been put together with the same care as a sports car interior, so spend the most money on all the things you see and feel, like the door fronts, lighting and hardware,' explains Buster and Punch's Massimo Minale. 'Even though your kitchen might be small, remember that a Porsche will always pack a bigger visual punch than a transit van.' 
How to approach finishing touches in a small kitchen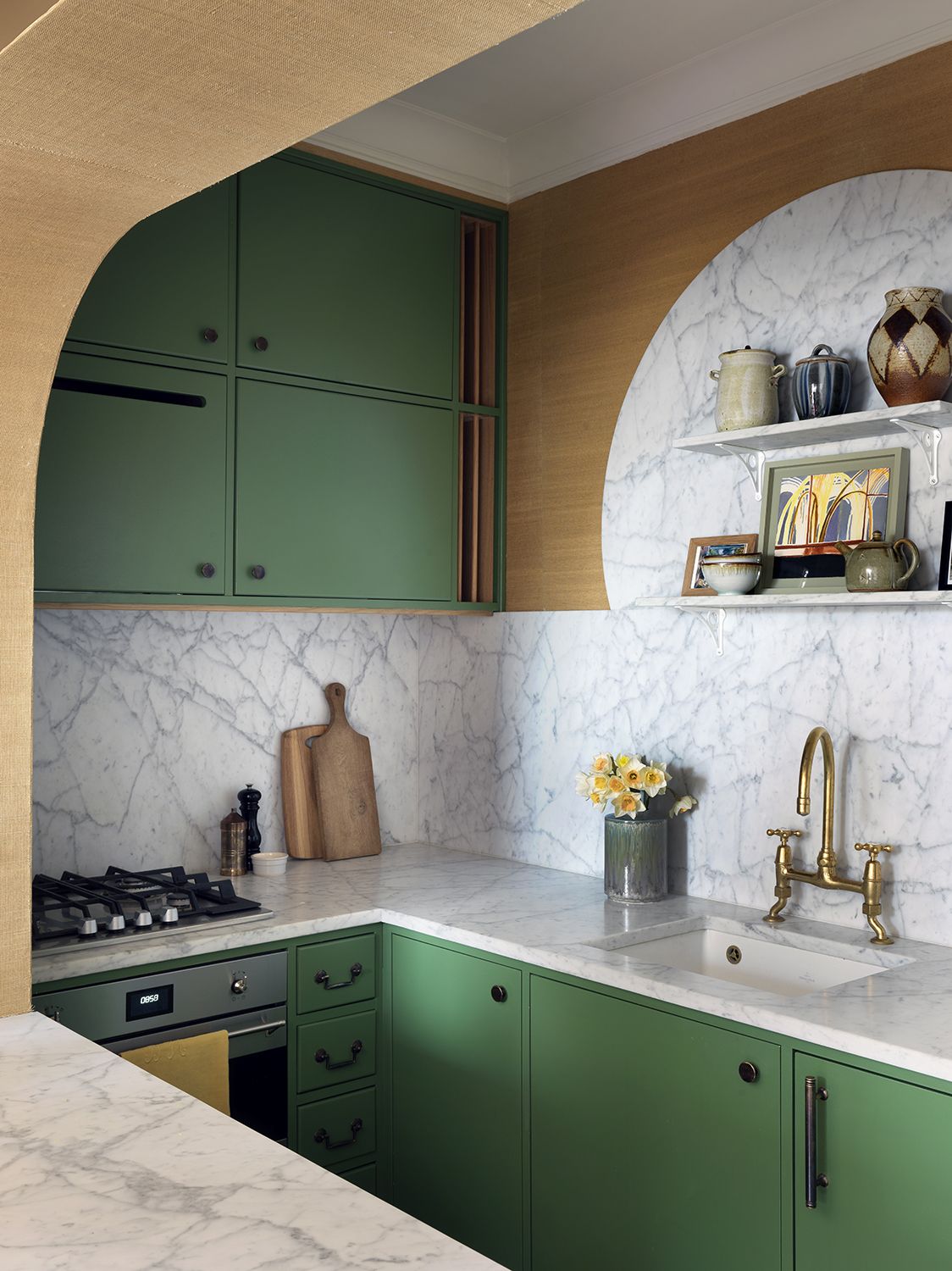 'Lastly, ensure that every detail has been considered from cabinet pulls through to open shelving – go for quality and ensure that any metal finishes match your cabinet colors i.e. cool greys with stainless steel or dark greens with smoked bronze,' advises Buster and Punch's Massimo Minale. 'I always use solid metal hardware on storage doors, rather than minimalist push-to-open features, as I want my kitchen to be robust, work every time and feel great to touch.' 
'Have a bit of fun with kitchen hardware to add personality' says interior designer Beata Heuman. 'It's worth spending a little more on handles even if you have limited kitchen budget – as small pieces, they're never going to cost that much. Research local brass foundries and you might be surprised that having something really unique made isn't always as expensive as you think.'
Published at Sun, 23 May 2021 06:11:19 +0000