2021 Cadillac Escalade Sport [Review]
Floating down I-95 towards Savannah at 75-miles-per-hour in the new Cadillac Escalade Sport, I felt like a yachtsman at the helm. Though the Caddy on asphalt was smoother than any boat on water. Sitting behind its sweeping dashboard of frameless OLED screens and glossy wood, with a plush and perforated leather seat beneath me, I realized it was the first time I'd driven a vehicle that truly comes into its own when you put it in cruise control. Some cars are meant to wrestle corners at speed, some are meant to haul things, and some to climb mountains. But the Escalade, it seems, is meant to coddle whoever's inside it. And it delivers the same joy to the passengers as it does to the driver. 
Stinson Carter
INTERIOR 
The interior is the reason you buy this Escalade. The thought I kept having was that if I were going to drive to Montana with five adults for a luxury fly-fishing or hunting trip, I would want to do it in an Escalade. The model I drove had an MSRP of 107k, but you do get to feel and touch the money spent here––it's not just under the hood. It's the OLED screens, the wide leather seats with their headrest speakers, the massive sunroofs, the rear-seat intercom, and the big and colorful Cadillac badge at the center of the leather-wrapped steering wheel. It's in the fact that you can turn your head in any direction and see expensive materials stretching out through a vast interior space.  
Driving on open road in this Escalade, you just feel like you've got a real piece of luxury real estate around you, and if you're going to stop and get out, the reason had better be good. 
Stinson Carter
STYLING AND EXTERIOR 
The newly-redesigned exterior is sleek and aggressive, though if you squint it looks like, well, an Escalade. They're not alienating anyone with any devisive design choices, just cleaning things up a bit to keep it fresh. The model I drove was Crystal White, which made details like the new front grille stand out. I liked that there's a lot of open space in the 12-spoke gloss-black alloy wheels, giving the visual sense that this luxuriant beast is floating on its wheels.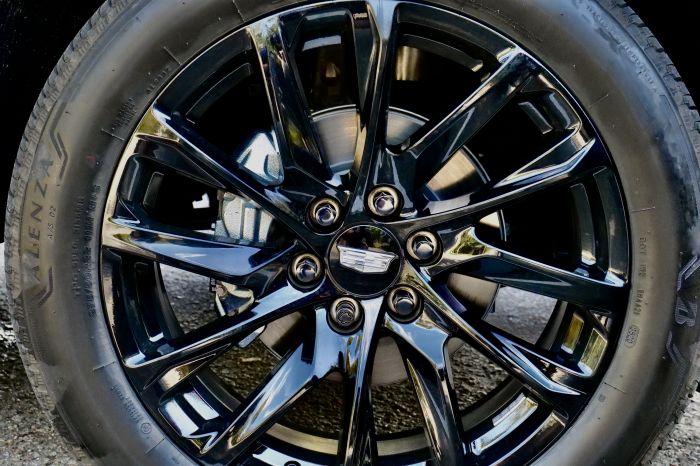 Stinson Carter
When I arrived at the posh Perry Lane Hotel in Savannah, we were greeted by a patrician valet––a towering man whose first words when we opened the door were: "Everyone around here calls me Pops."  
His second words, after looking over the Escalade, were, "Nice ride." 
Valets have the occupational opportunity to develop strong opinions about cars, and Pops was as shrewd as they come. If the Escalade had his approval, then it most certainly had mine.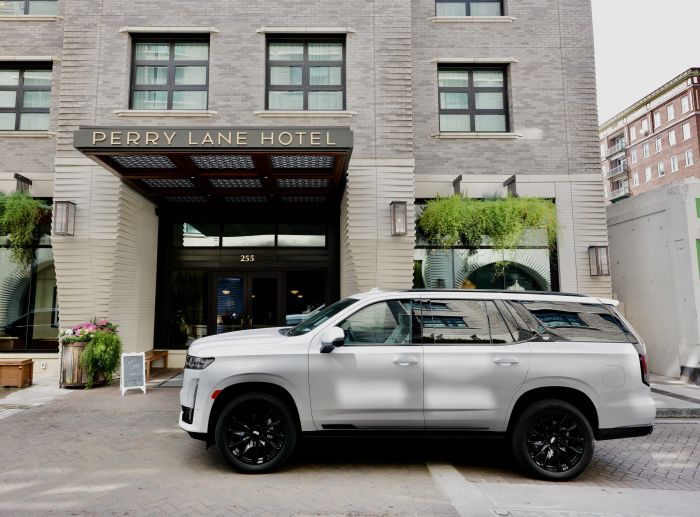 Stinson Carter
HANDLING AND PERFORMANCE 
The 6.2L V8 is as powerful as it sounds, but given the Escalade Sport's roughly 5,800 pound curb weight, it still won't exactly be zipping around town. But nor will it ever struggle. The Escalade never stops feeling big, but nor does it ever feel sluggish. It is as powerful as it needs to be to carry its weight well, and you don't buy this to take it to the track unless you're going to bet on horses.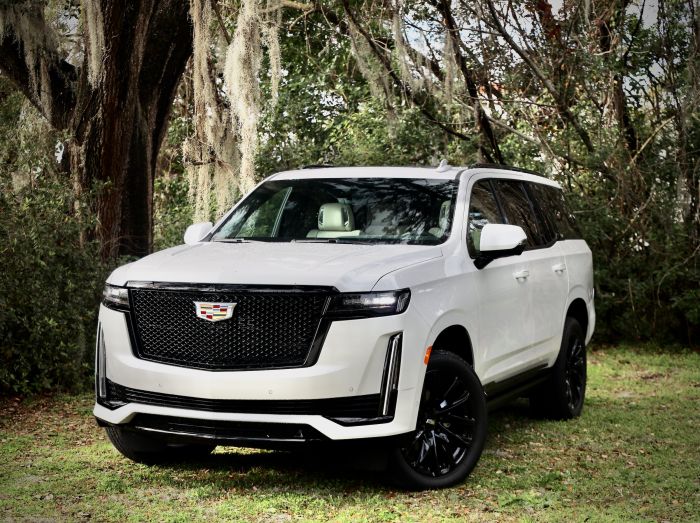 Stinson Carter
The official MPG numbers are 14 city/19 highway. I never got particularly close to 19, and was glad that I filled the massive tank during a mid-pandemic low point in gas prices. The 10-speed automatic transmission is so smooth you won't notice it shifting gears, and the 4WD would make this a viable choice for a winter mountain trip. 
I had one issue with the safety features that I feel compelled to mention: a man was walking towards me on the shoulder of the freeway, and I was driving in the right lane. The Front Pedestrian Braking system registered the man as being in the road, and dramatically applied the brakes. It was a jarring experience, potentially dangerous, and I hope it's worked out in future updates.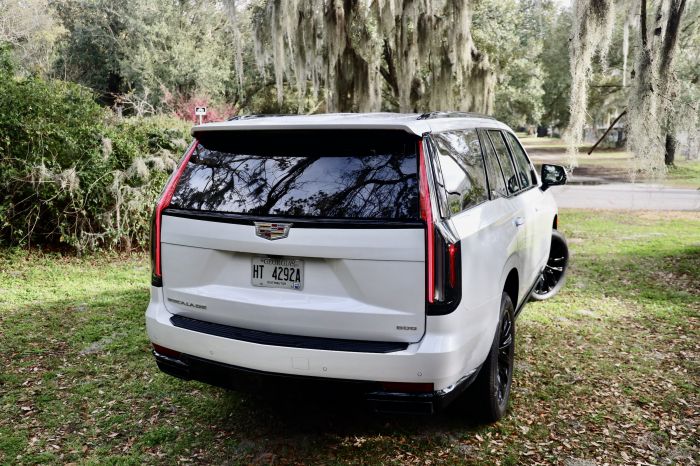 Stinson Carter
FINAL THOUGHTS
I remember when the Escalade was first introduced, in 1999, and it seemed like an interloper in the Cadillac line. An outlier at best; a cash grab at worst. And yet, over the past two decades, Cadillac sedan models have come and gone—mostly gone—while the Escalade remains. Once the outlier, it is now Cadillac's most legacy offering.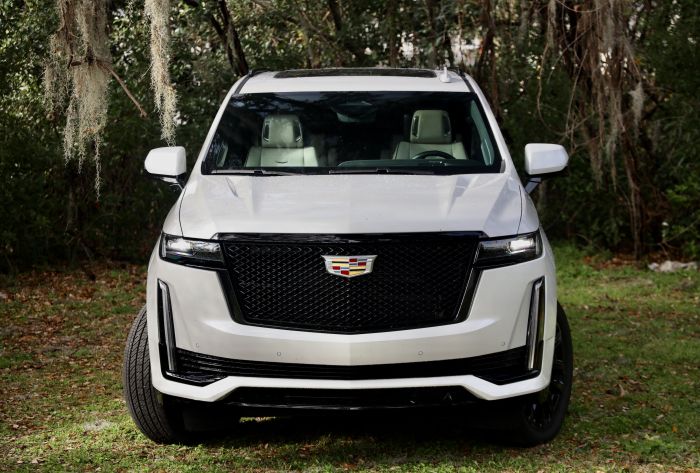 Stinson Carter
My grandfather was a Cadillac man. He drove a navy blue Fleetwood—one of the last models before they started shortening them––and it was a beast. He took out his garage door with it once. But it meant something to him. All his life, he'd driven modest cars utterly into the ground. And his last car was that Cadillac: a big, heavy, undeniable statement that he had done alright in his life. Enough to earn a Cadillac. 
And I can still remember the smell and softness of the leather in the back seat, when he and my grandmother took me on road trips. There was a certain Cadillac feeling and smell that I got (despite their Vantage cigarettes). And despite all the years and technological improvements between my grandfather's Cadillac and this one, I was happy to find that essential Cadillac feeling still there, even if buried beneath a few decades of technology he never could've dreamed of. 
My grandfather's Cadillac wasn't the most practical thing he could've driven. Not by a longshot. Practical was the Camry that my grandmother bought after he died. But the Camry couldn't take him where he wanted to go. For that, he needed a Caddy. 
The new Escalade delivers on the promise of the Cadillac badge, as well or better than any that have come before it.  
It's not my grandfather's Cadillac. It's much better. 
___________________________________________
Learn more: Cadillac Escalade Sport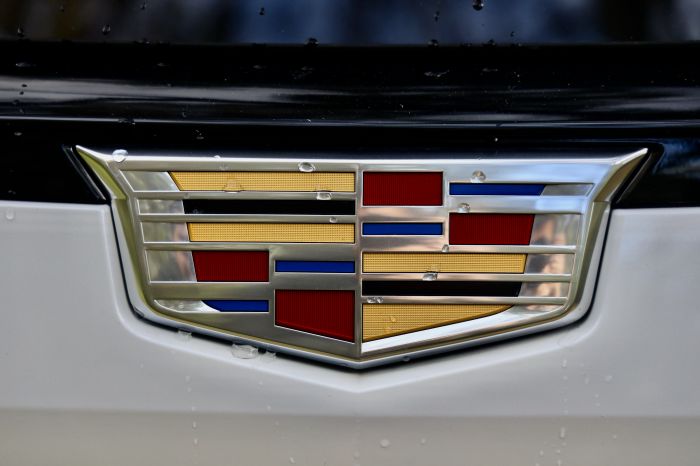 Stinson Carter
Published at Wed, 09 Jun 2021 03:56:35 +0000