12 Spirits & Cocktails That Ensure a Festive Fatherâs Day Celebration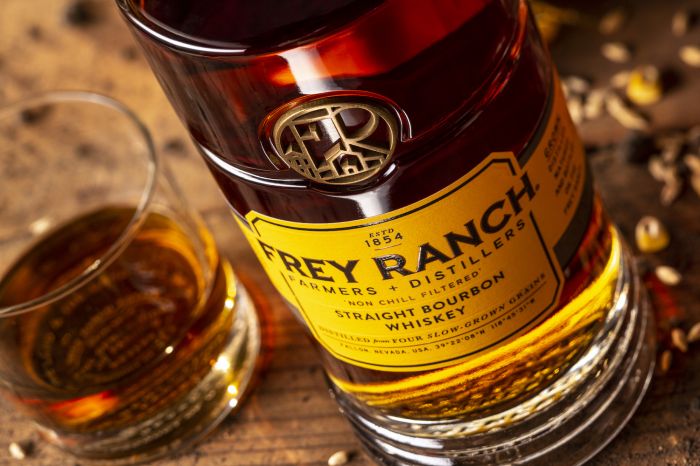 Photo courtesy of Frey Ranch
This Father's Day, give dad what he really wants – the gift of your company. Of course, it wouldn't hurt to show-up with a bottle of one of these luxe spirits. Go a step further and gather the ingredients to make one of these delicious crafted cocktails, and then settle-in for some quality time together.
Photo courtesy of Redemption
Redemption Rye: The grain of choice for American whiskeys in the 1800s, rye is enjoying a revival; its renaissance celebrates original American whiskey. Rye-forward Redemption Rye pushes the mash bill to a rye content of 95%, with a focus on rich flavor with a distinctive grain profile – bold rye spice, light floral, and citrus notes with a slight mint finish. It's perfect for sipping neat or as a base in classic cocktails. With a nod to Harry Styles, try this refreshing watermelon flavored libation:
Watermelon, Sugar, Rye 
1.5 parts Redemption High Rye Bourbon
1.5  parts Salted Watermelon-Honey Syrup
½ part Lemon Juice 
2 parts Tonic Water
Mint
Shake all ingredients with ice. Strain into a Collins glass. Top with tonic water. Garnish with a watermelon radish slice and a mint bushel. 
Watermelon-Honey Syrup: Blend 1 cup Watermelon Purée (Perfect Puree or Real Ingredients)  with 1 cup honey simple syrup. Add 2 teaspoons Malden salt and stir to dissolve. Cool in the refrigerator. Keeps for 1 month.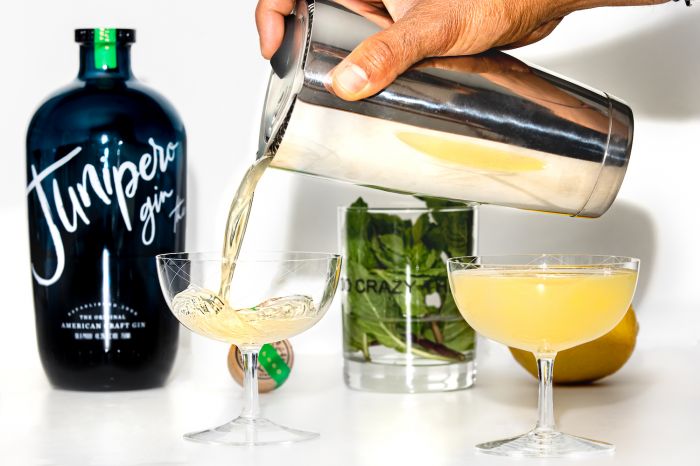 Photo courtesy of Junipero Gin
Junipero Gin: 'The Original American Craft Gin,' Junipero was the first registered gin sold in America to be produced in small batches in a copper pot still which results in a more complex, well-rounded 'craft' spirit. This method is still used by San Francisco-based Junipero today and requires an intentional approach to the recipe, ingredients, and production. The 12 botanicals found in Junipero (juniper, coriander, cubeb, grains of paradise, lemon peel, orange peel, orris root, cassia bark, cardamom, bitter orange peel, aniseed, and angelica root) have remained unchanged since the brand's launch 25 years ago. 
Southside:
2 oz Junipero Gin
1 oz fresh lemon juice
5 mint leaves
1 oz simple syrup
Mint sprig garnish
In a shaker, gently muddle the mint and lemon juice. Add Junipero Gin, simple syrup and ice. Shake and strain into a chilled martini glass. Garnish with a mint sprig.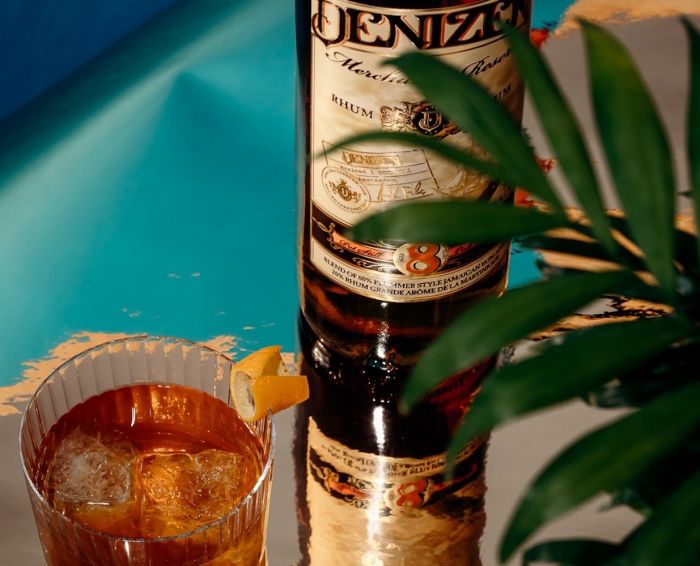 Photo courtesy of Denizen Rum
Denizen Merchant's Reserve Rum: This is an ultimate go-to rum for elevated cocktails. It showcases bright fruity caramel flavors balanced by earthy, grassy notes, and a long spicy finish. Denizen Merchant's Reserve is a blend of two 8-year-old plummer style Jamaican pot still rums and a rare component of 8-year-old Rhum Grande Arôme from the Le Galion distillery on Martinique.
Rum Old Fashioned:
1.5 oz Denizen Merchant's Reserve Rum
1 barspoon demerara syrup (2:1 sugar and water)
2 dashes Angostura Bitters
2 dashes Orange Bitters
Orange peel for garnish
Combine Denizen Rum, syrup, and bitters in a mixing glass with large ice. Stir vigorously and strain into a double rocks glass over one large ice cube. Garnish with an orange peel.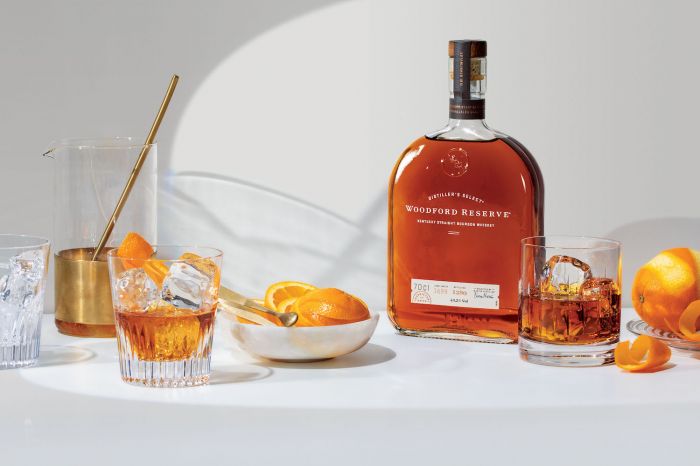 Photo courtesy of Woodford Reserve
Woodford Reserve Kentucky Straight Bourbon Whiskey: The art of making fine bourbon first took place in 1812 on the site of the Woodford Reserve Distillery in Versailles, Kentucky, now a National Historic Landmark. The perfectly balanced taste of this Woodford Reserve Kentucky Straight Bourbon Whiskey (45.2% ABV) is composed of more than 200 detectable flavor notes, from bold grain and wood, to sweet aromatics, spice, and fruit & floral notes.
Woodford Reserve Old Fashioned:
2 oz. Woodford Reserve Straight Bourbon whiskey
0.5 oz. Demerara Syrup
3 dashes Angostura Bitters
2 dashes Regans' Orange Bitters
Muddle sugar and bitters in a rocks glass. Add ice and bourbon. Stir ingredients for 30-40 seconds. Garnish with a lightly expressed orange peel.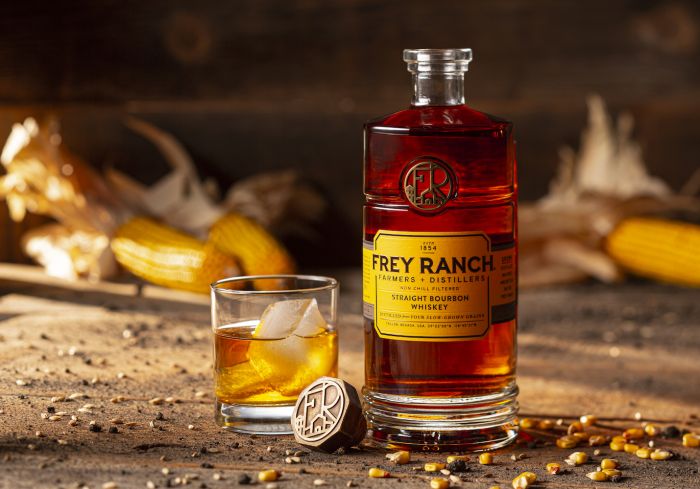 Photo courtesy of Frey Ranch
Frey Ranch Straight Bourbon Whiskey: Tucked away just east of the Sierras in Fallon, Nevada, Frey Ranch Distillery is proud to be one of only a few whiskey producers in the world to grow 100% of its grains on-site. The Frey family has a long history of farming in the region (dating  to 1854) that continues today through fifth-generation farmer Colby Frey, who started the distillery in 2006 with his wife and co-founder, Ashley. Their signature Frey Ranch Straight Bourbon Whiskey has received critical acclaim since it was first released in December of 2019, earning 92 points from The Tasting Panel and 90 points from Wine Enthusiast.  
Ranch Hand: 
1.5 oz Frey Ranch Straight Bourbon Whiskey 
.75 oz fresh lemon juice 
.5 oz honey syrup (2:1)
Dash of aromatic bitters
Build all ingredients and shake with ice. Strain into a chilled rocks glass and garnish with fresh lemon peel.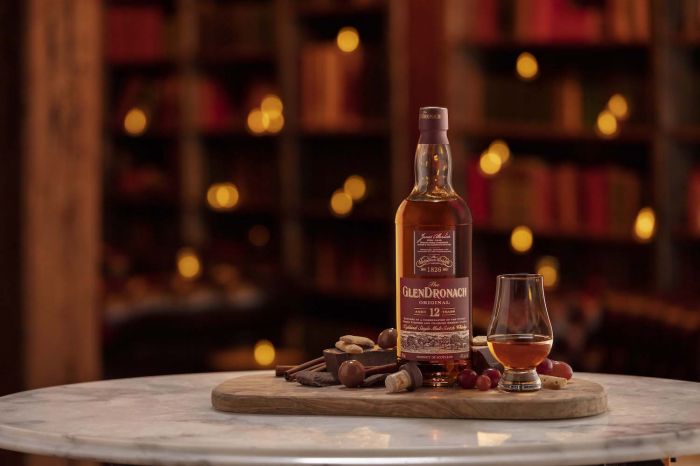 Photo courtesy of The GlenDronach
The GlenDronach Original Aged 12 Years: The GlenDronach Original Aged 12 Years epitomizes the historic distillery's unyielding dedication to the mastery of sherry cask maturation. Aged in fine Pedro Ximénez and Oloroso sherry casks from Andalucía, Spain, this richly sherried Highland single malt Scotch whisky presents smooth vanilla, soft fruits and a memorably long, nutty finish, for which it has become renowned. The expression is bottled at 43%, non-chilled and natural in color. 
Rob Roy:
¾ oz. The GlenDronach Original Aged 12 Years 
1 oz. Red Sweet Vermouth 
3 dashes Angostura Bitters 
Garnish: Brandied Cherry 
Combine all ingredients in a mixing glass with ice. Stir until very cold and strain into a chilled coupe. Garnish with a cherry.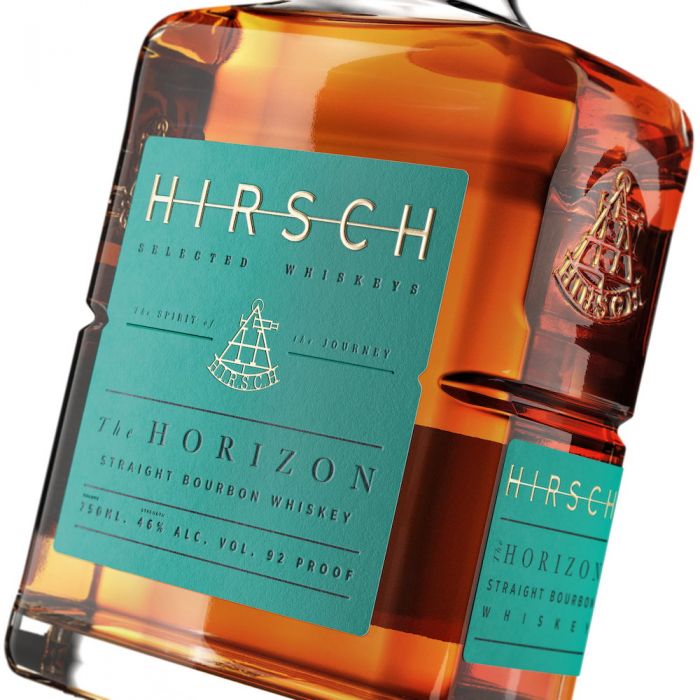 Photo courtesy of HIRSCH
HIRSCH: HIRSCH is recognized as the "Best Non-Kentucky Bourbon" by the World Whiskey Awards. The brand's latest expression, THE HORIZON, combines two straight bourbons distilled in Lawrenceburg, Indiana. Modeled by the inspiration to travel and discover, each bottle features a grid on the back label with exact batch specifications. 94% of the blend is distilled from a traditional mash bill of 75% corn, 21% rye, 4% malted barley aged a minimum of 4 years. The remaining 6% is distilled from a "high rye" mash aged 6 years for added complexity. 
HIRSCH Old Fashioned: 
2 oz of Hirsch The Horizon Straight Bourbon Whiskey
0.5 oz Luxardo Apricot Liqueur
0.5 cinnamon syrup
2 Dash Angostura Aromatic Bitters
Build in a rocks glass. Add ice and stir until just chilled. Garnish with a lemon twist and Maraschino cherry.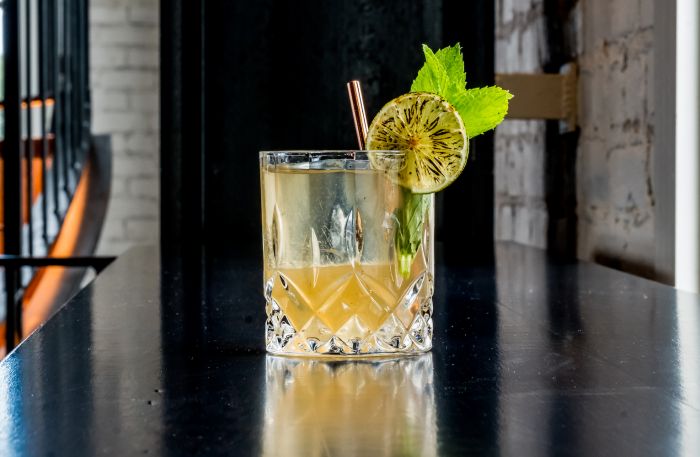 Photo courtesy of Bently Heritage Estate
Bently Heritage Estate Distillery: Founded by owners Christopher and Camille Bently in 2019, the duo's shared passion for Scotch, Tequila, and other terroir-driven spirits inspired them to create an American offering of luxury estate spirits, rooted in California's Sierra Nevada. With their knowledge of farming, sustainability, and preservation, and a passion for world-class spirits, they created a true estate distillery. Bently Heritage guides the sustainable production process from start to finish – from growing 100% of grains on estate land, to aging and bottling every spirit distilled in-house. We love their Source One Single Estate Vodka, distilled from 100% estate grains and water fed by the high Sierra snowmelt. The oats lend this single estate vodka a rich mouthfeel and sweetness, while the wheat adds hints of nuts and cereal, with a clean and bright finish. This premium vodka has all the hallmarks of a classic, with just a bit more body. 
Ceylon-Vie:
1.5 oz Source One Vodka 
1.0 oz Ceylon Syrup 
1.0 oz Charred Lime Juice 
5 Mint Leaves 
Soda Water 
Garnish: Mint and Charred Lime Wheel 
Muddle mint in a shaker. Add vodka, Ceylon syrup, and fresh juice from limes that have been charred in a skillet. Add ice, and shake hard. Strain into a rocks glass with fresh ice. Charge with soda water, and garnish with mint and charred lime wheel.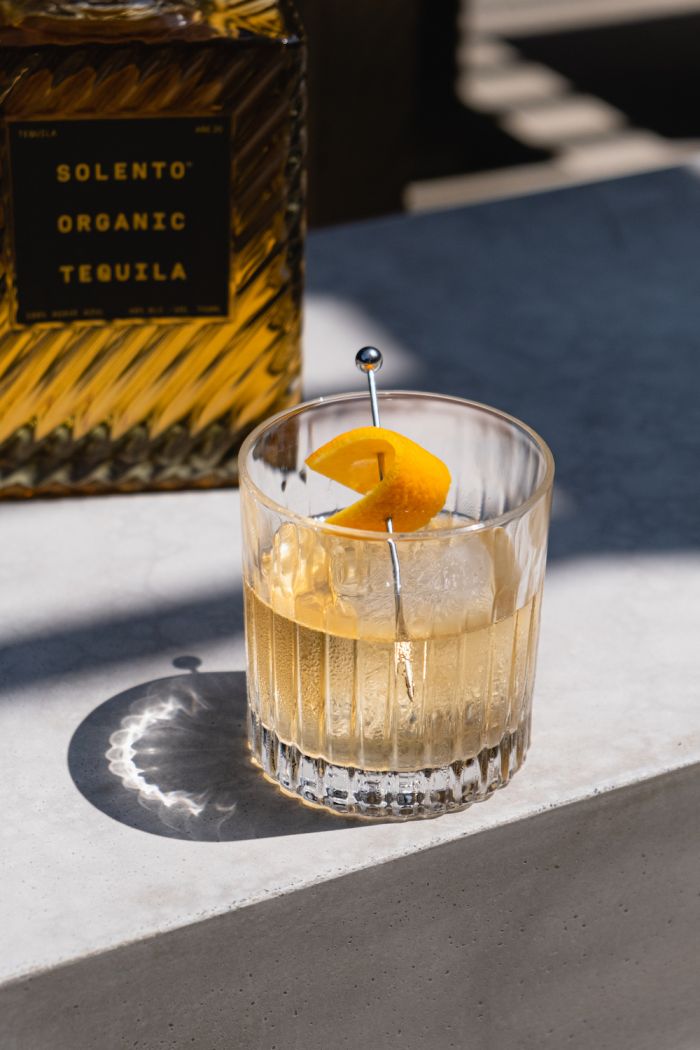 Photo courtesy of Solento Tequila
Solento Tequila: Solento is an award-winning, USDA certified organic tequila range made in small batches from a single estate in Jalisco. Founded in 2019 by filmmaker and surfer Taylor Steele, Solento (or "slow sun" in Spanish) is a sippable mindset that invites space for conversations that elevate and inspire. Three expressions – Blanco, Reposado and Añejo – are crafted from certified organic agave grown leisurely under the Mexican sun for seven years. 
Solento Eastside: 
Gently muddle 4 mint leaves, 4 slices of cucumber, and ½ oz agave syrup
Add 2 oz Solento Blanco, ¾ oz organic lime juice + ice
Shake and strain into a martini glass. Garnish with mint + cucumber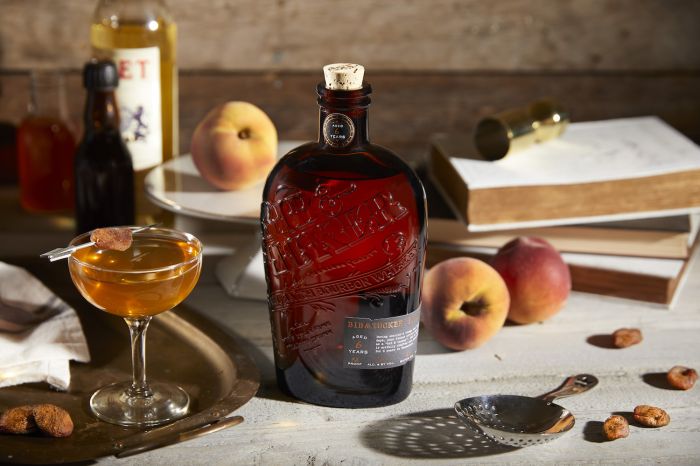 Photo courtesy of Bib & Tucker
Bib & Tucker Bourbon: Steeped in the tradition of the 1880s, Bib & Tucker Bourbon is a non-chill filtered bourbon, resulting in authentic color and taste. Double-distilled in classic pot stills in the rolling hills of Tennessee, Bib & Tucker is aged in white-oak barrels with a lower-than-average barrel entry proof giving distinct aromas and flavor profile to every batch. Bib & Tucker is offered in three age varieties – a 6-Year, 10-Year and a 12-Year Single Barrel Select.
Fanny Farmer's Fruitcake
2 oz. Bib & Tucker 6-Year Bourbon
.75 oz. Lillet Blanc
.5 oz. Apricot Liqueur
2 dashes Peach Bitters
Dried Apricot to garnish
Stir all ingredients together in a mixing glass with ice. Strain into a chilled coup or martini glass to serve and garnish with a dried apricot or orange twist.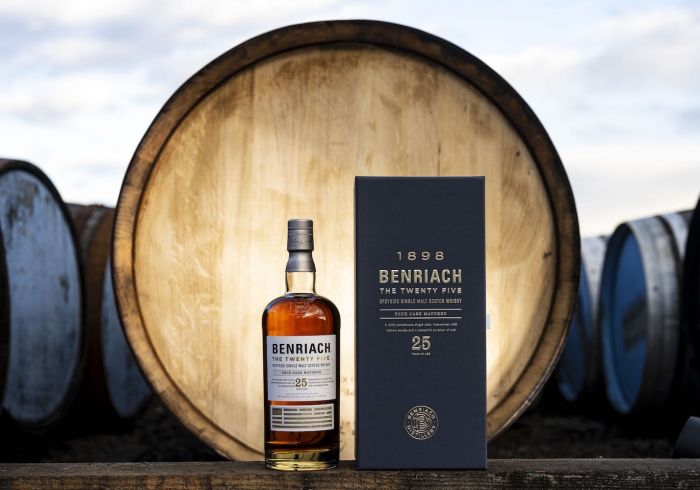 Photo courtesy of Benriach Distillery
Benriach The Twenty Five: Benriach Distillery, located in Scotland's Speyside region, prides itself on having a distinctive flavor-forward portfolio of single malt Scotch whiskies. After twenty-five years, Benriach's character appeals to drinkers of richly matured sherry cask whisky, offering more intriguing layers of flavor with the use of three other cask types and mellow layers of honey malt and caramelized smoke. Sorry – no recipe for this one. At $360 a bottle, it's meant to be enjoyed neat or on the rocks.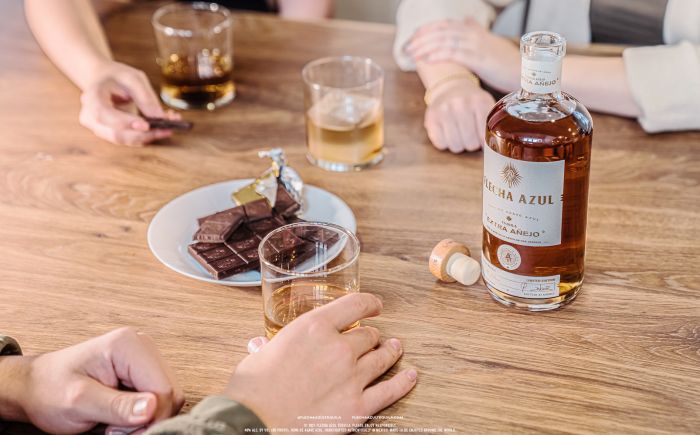 Photo courtesy of Flecha Azul
Flecha Azul Tequila Extra Añejo: Founded in 2020 by Mexican-American PGA golfer Abraham Ancer and Mexican entrepreneur Aron Marquez, sustainably harvested Flecha Azul Tequila celebrates centuries of history, tradition, and heritage through five expressions of additive-free, award-winning tequila – Blanco, Reposado, Añejo, Cristalino, and Extra Añejo. Crafted in Jalisco, Mexico from 100% estate-grown Blue Weber Agave, Flecha Azul is produced by a multi-generational, family-owned and operated distillery with traditional practices that date to 1840. This is the brand's most premium tequila, aged for 26 months in American ex-bourbon oak barrels. It's full-bodied, rich, and decadent, and like the previously listed spirit, to add anything to this $350 gem would be criminal.

Published at Tue, 01 Jun 2021 01:58:01 +0000